The Pickleball Club of Carlsbad (PBC) is now open and serving both fanatics and people interested in trying out the fastest growing sport in America. The Club offers 6 pickleball courts plus two ping pong tables and corn hole. Memberships are available but not required to use the facility.
Pickleball, which is best described as a cross between tennis and ping pong, is played singles and doubles on a court that's 44ft x 20ft. You can fit four pickleball courts on a regular size tennis court. Great for all ages the sport started in 1965 on Bainbridge Island, a short ferry ride from Seattle, Washington. Three dads whose kids were bored with their usual summertime activities — are credited for creating the game using a thin small board and a ball. The original purpose was to provide a game that the whole family could play together.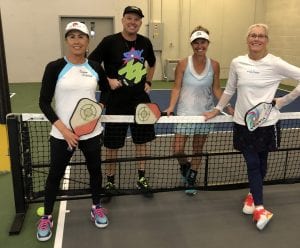 The Club was created by local Carlsbad resident Shawn Walker. Walker owns Event Management Solutions Inc. which operates multiple Paintball Parks including the world famous Camp Pendleton Paintball Park.
"I was introduced to pickleball two years ago from my dad. He told me many of his friends have started playing regularly and invited me to try it out. I loved it immediately. It's such a social, fun game that doesn't take much to be good at. The sport is getting so popular that there aren't enough courts to serve everyone. I looked for an opportunity to build a facility that is family friendly and can showcase the sport. When I presented my idea to the team at The Shoppes at Carlsbad, they saw the vision and helped to make it a reality. I'm super proud of what we built here and am excited to support Carlsbad and all North County" says Walker.
The Club is open seven days a week from 8 a.m.-10 p.m. There are open play times, private reservation times, a weekly beginner clinic, private lessons, and even a free "power hour" for people to come check out the sport. Paddles and balls are available for use. Come try out the fastest growing sport in America, Club style!
The Pickleball Club of Carlsbad is located at 2561 El Camino Real, Carlsbad, CA 92008 (760) 893-0019 For more information visit: www.pickleballclub.life