Recognizing longevity members




The Carlsbad Chamber of Commerce was founded in 1923 by local businesses to encourage business growth and a healthy community. The Carlsbad Chamber is incredibly proud and grateful to have many long-time active members, still dedicated to promoting economic vitality and prosperity in Carlsbad. This year we awarded the members having 35, 30 and 25 year of membership. Thank you for your dedication to our community, your business, and the Chamber of Commerce. It is because of your support that the Chamber has still been able to exist and provide our members what they need. Here are a few that have received their recognition at the CBAD Awards last month.
Modern Postcard began in 1976 as a one-man operation in a one-bedroom apartment focused on individual customer needs, has grown into a company at the forefront of the postcard, printing and direct mail industries. The Iris Group was started when Steve Hoffman discovered a niche in the real estate industry – providing high quality photography of properties on the market. Steve soon moved on to developing brochures for his clients, and within six months of starting his brochure venture, moved his growing business from his apartment into a 1,200 square foot building in San Diego.
Museum of Making Music was founded in 1998 and opened to the public in March 2000, the Museum of Making Music celebrates the accomplishments and impact of the people who make, sell, and use musical instruments and products. It does this through unique exhibitions, vibrant and varied live music performances, and innovative educational programs. During its first 20 years of existence, the museum curated public exhibits about the history of American popular music, the manufacture and retailing of musical instruments and the history of the music products industry from the 1890s to the present day. In 2020, the museum announced they would undergo a major renovation. The renovation was completed in June 2021.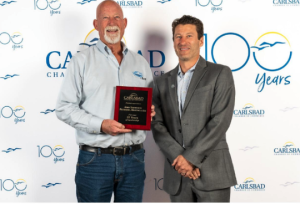 John Stevenson Plumbing, Heating & Air is a family owned, full-service plumbing and HVAC company dedicated to exceeding the needs of residents throughout North County San Diego. Founded in 1990, friends and neighbors have trusted us to keep their homes comfortable and safe year round. Prior experience: Began work in the industry in 1976, working for several companies which specialized in custom homes in Rancho Santa Fe, Fairbanks Ranch, and Hollywood Hills. Involved in the start up and management of Golden Eagle plumbing before opening own business and working out of his home in Cardiff-by-the-Sea. The company eventually relocated to Solana Beach and then Carlsbad six years ago.
Spangler Realty was born and raised in Carlsbad. Elizabeth 'Beth' Spangler is the President of Spangler Realty. Since 1994, Beth has worked in the real estate and property management industry, starting at the front desk and progressing her way through various aspects of property management and real estate and finally to President of Spangler Realty. Beth is a Realtor and has been licensed since 1997.
The Carlsbad Friends of the Arts (CFA) is a nonprofit group dedicated to making the arts an integral part of our community experience. Founded in 1987, CFA remains committed to our original mission: to promote and support the programs and activities of the City of Carlsbad Cultural Arts Office. One of their major programs is TGIF Concerts in the Park, a free summer concert series that highlights top-notch local, regional and national performers weekly in a beautiful park setting offering plenty of open space to dance and picnic, plus overall fun times!
EMD Electronics, formerly Versum Materials, and began as Air Products. The company has been around since 1940 in the US, and joined the Carlsbad Chamber upon opening a location here in 1994. The Electronics Specialties Material's facility of Air Products and Chemicals, Inc., located in Carlsbad, was awarded an Environmental Excellence Award from the Encina Wastewater Authority for the sixth time since 1994. The stringent criteria for the award include 100 percent compliance with all water pre-treatment ordinances. Randy Skow, former environmental manager for Air Products, said, "Receiving this award is very important to this facility. It's another great example of Air Products' commitment to corporate responsibility and sustainability." Their growth, merges, and innovation continue year after year and we are fortunate to have them in Carlsbad and a part of our community.