Carlsbad Village Street Faire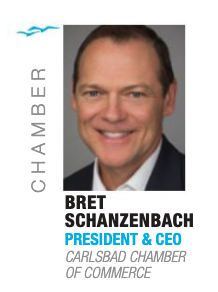 This is part IV of a series on the impact of the Carlsbad Chamber of Commerce over its 100 years of service to the Carlsbad community. 
The Carlsbad Village Street Faire has been a staple in Carlsbad since its inception in the 1970's. However, the Village Faire had very humble beginnings. It was started as a sidewalk sale in 1974 by Keith Kennedy, a longtime Carlsbad resident and US Marine veteran. His goal was simple: help promote downtown Carlsbad businesses. 
This simple event, however, did not remain small and humble for long. It was originally a collaboration between Kennedy Faires and the then-Carlsbad Village Business Association. However, by the end of the 1970's, it was clear that the event had outgrown the Carlsbad Village Business Association's capability to help Kennedy Fairs manage it. In 1982 the Carlsbad Chamber of Commerce assumed management of the Street Faire and has served in that role ever since. By the 1990's, this small event had grown to become the largest one-day street faire in the nation! 
Keith Kennedy, who coordinated the faire for over two decades, passed away in 2015. However, he passed the street fair torch to his son-in-law Brian Roth in 1997. In 2016 Brian Roth handed over the Kennedy Faires reigns (now Kennedy and Associates) to Rick Bauer. 


And the Carlsbad Village Street Faire continues to thrive to this day. Christine Davis is currently the Executive Director of the Carlsbad Village Association. Before transitioning into that role, she owned Coolest Shoes in California, which was located in the Village on State Street. When interviewed a few years ago about the Village Street Faire she shared, "The May Carlsbad Village Faire was always our biggest day of sales for the year. We always looked forward to it." 
The Carlsbad Village Street Faire happens twice a year: the first Sunday in May and the first Sunday in November. We currently host approximately 900 vendors at each faire. That number of vendors is impressive. The crowds of people who come to shop, eat and enjoy themselves are equally impressive with an estimated 100,000 people attending each time. If you extrapolate that over multiple decades of hosting this faire twice a year, that is getting close to 10M visitors that have descended upon Carlsbad Village. 
Besides exponential growth, the event has seen other changes. There are no longer any elephant rides (the 80's were fun, weren't they?!). The original team that organized the day-of logistics used to dress up as keystone cops…that doesn't happen anymore (Pirates of Penzance anyone?). However, the focus on great micro businesses, cottage industries and high-quality artisans remains. 
We are fast approaching the 50th anniversary of the launching of the Carlsbad Village Faire. In 2023 you can expect great shopping, fun faire food, a microbrewery beer garden, live local entertainment, carnival rides and tons of fun. And as always, we hope the public uses this event as a chance to familiarize themselves with our wonderful village restaurants and retail shops. Hope to see you on Sunday May 7 and November 5. 
Stay tuned next month as we discuss the birth of LEGOLAND.