Moving forward with gratitude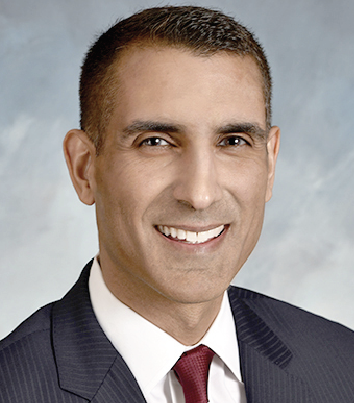 BY AHMED HAQUE
Chairman of the Board      
CARLSBAD CHAMBER OF COMMERCE
As my term as Chairman draws to a close, I reflect on what an amazing experience the last two years have been. There have been highs and lows, accomplishments and business left unfinished, but throughout and above all, the feeling of gratitude for the privilege it has been to serve as Chairman of this esteemed organization.
Each month, I've been given this space to share developments at the Chamber and the stories of our members. In writing these columns, I get to speak on behalf of the hard work of our staff, Board and member volunteers that make the Chamber's programs and events so successful. I've gotten to know the members who were the subjects of my columns. Each of them has been an inspiration to me and I often find myself retelling their stories to friends and colleagues at work. I dealt with writer's block on a regular basis and hope I did their stories justice. I will miss my monthly writing assignment.
I will also miss speaking at our events and meeting so many of our members. Representing a longtime sponsor of the Chamber and then serving as Chairman, I spent a lot of time at a podium. I'm my own worst critic when it comes to public speaking. Even though I never got over the nerves, I loved the challenge.
Over the last several years I have worked closely with the Chamber staff. I never cease to be impressed by the passion they bring to their work and their resiliency. I could not have predicted that staff members, past and present, would provide me with even more support than what I could give them.
Our former CEO and my mentor, Ted Owen, predicted my legacy would largely be a function of the selection of his successor. By that measure I think I've done quite well. But it's the Board, the hard work of our selection committee and of course Bret Schanzenbach to whom credit is due.
Apart from overseeing that transition, there were other goals I hoped to accomplish.
I wanted to lead a Board unafraid of tackling difficult and sensitive subjects. It has been rewarding to see nearly every single board member raise their hand to express an opinion, debate their colleagues, and help shape the direction of the organization.
In my remarks at the recent State of the Community event, I spoke of the opportunity the Chamber has to leverage diversity. I meant that word in terms of diversity of ideology, experiences, and backgrounds even more than race and gender. I believe the Chamber and our community will always benefit from robust and sometimes even spirited debate, with respect for other points of view and the individuals that express them.
I proudly highlight that so much of what constitutes the high quality of life we enjoy is the product of our business community. The strength of that community is often under attack by well-intentioned but shortsighted policies and legislation. It is my hope that the Chamber can continue to articulate why the business community is a vital interest and not a special interest.
It is a great honor to soon be included among the past Chairmen of the Chamber, a group whose service spans nearly a century. While there are so many people to thank, I want to especially acknowledge the Board, each of whom could have sat where I have these last two years, for their support. To them, our staff, and all our members, I look forward to what we can accomplish in 2020.