A comprehensive look at Vista Community Clinic's specialized healthcare programs


Vista Community Clinic (VCC) is committed to community well-being and providing comprehensive healthcare services to all. VCC has twelve clinic sites that serve North San Diego, Riverside, and Orange counties. These sites stand as pillars of health and well-being in the communities we serve. Each clinic is a hub of compassionate care that provides a wide array of health and wellness services.

Services include adult and family medicine, women's health, pediatrics, dental, behavioral health, cardiology, optometry, acupuncture, chiropractic care, senior care, cancer screenings, and much more. VCC also offers various community health education programs, which are free and open to all community residents. Additionally, programs like HIV Care, Hepatitis C treatment, Gender Affirming Care, and Medication-Assisted Treatment (MAT) are the cornerstones in delivering specialized care. VCC's HIV Care combines medical intervention with a welcoming and stigma-free environment.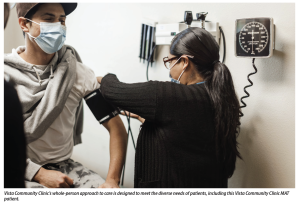 Our dedicated team of healthcare professionals ensures that individuals living with HIV receive comprehensive primary medical care, laboratory services, dental care, and referrals to specialty care as needed. Furthermore, VCC offers counseling, case management, and support groups. VCC also has an established HIV Prevention Program team that works closely with our community partners to spread awareness and reduce stigma. In addition, they offer rapid HIV testing and preventative care like Pre-Exposure Prophylaxis (PrEP). VCC's MAT program is a critical component in addressing the opioid epidemic and substance use disorders in our community.

MAT works to control withdrawal or craving symptoms and is prescribed by our primary care clinicians. The VCC MAT program includes medication management, counseling, and social service referral support to help patients achieve and maintain recovery. By integrating medication with counseling this program provides a holistic approach to individuals seeking recovery from opioid addiction.

Vista Community Clinic's whole-person approach to care is designed to meet the diverse needs of patients. Our services and programs exemplify our commitment to offering specialized care, ensuring that every individual in our community has access to the support they need for a healthier and more fulfilling life.