A hundred thank-yous from our Centennial Birthday Party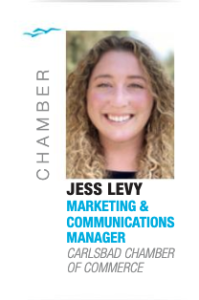 Thank you, merci, danke, do jeh, grazie, gracias! Across languages, we simply cannot express how truly special it was to share in this special moment together. As the Carlsbad Chamber of Commerce celebrated its centennial year as an organization, past staff and board members, current and new members, and community leaders came together to celebrate this huge milestone on Wednesday, February 8, 2023. 
100 cupcakes and over 200 attendees mingling with the past, present, and future of the Chamber brought the magic. There were so many passionate people in one space, the energy was how a Birthday should be. Impactful board members from over a decade ago, political representatives, local government leaders and our Mayor, a 1970s Miss Carlsbad Princess, and past CEOs graced our office to join in on the occasion. We heard from attendees how great it was to be able to catch up with the nostalgia of Carlsbad Chamber decades past, and connect with the future of our cherished community. 



The event wouldn't have been possible without our gracious food vendors: Lourdes Mexican, Señor Grubby's, Via Vai Cucina Italiana, Holiday Inn Staybridge Hotels, Sunset Bay Candy Company, and Little Cakes Cupcakes. Thank you from everyone at the Carlsbad Chamber for making our event so generously delicious and festive.
On behalf of the entire staff, we wanted to take a moment to express gratitude for each and every one of you for your individual support on our Birthday and every day. Our members are truly the fuel that power the community and region. We wouldn't be where we are today, thriving as the second largest chamber in San Diego County and the 10th largest in the state, without you all!