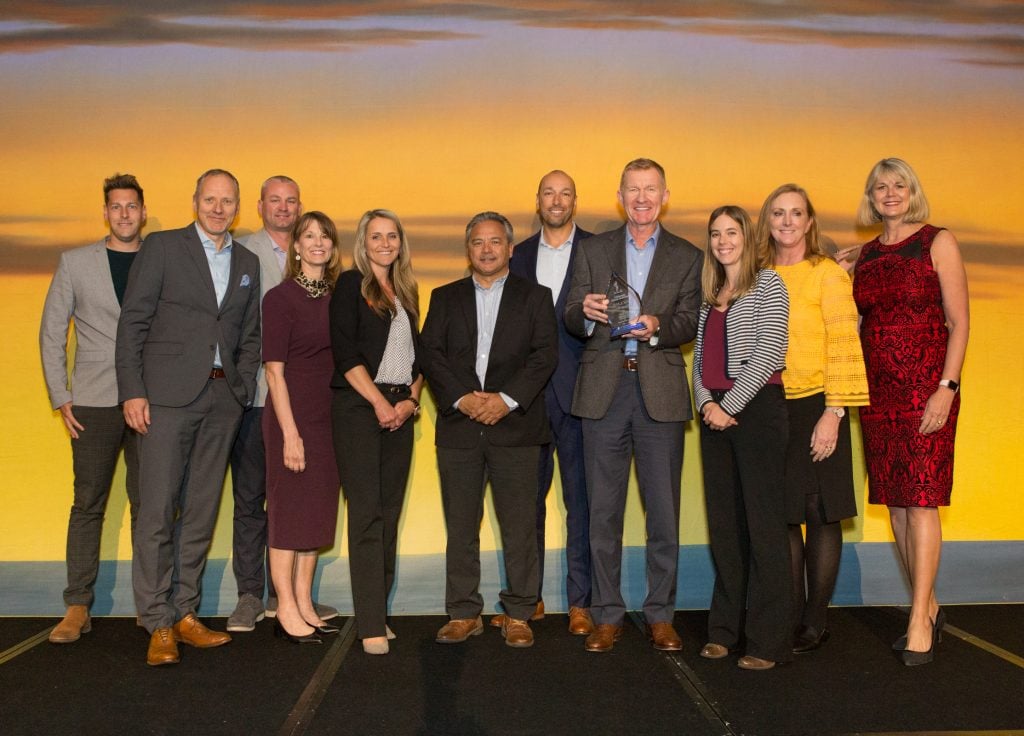 A winning staycation
BY CAROLINA ALBAN-STOUGHTON                                                                                                                                                  Communications Manager CARLSBAD CHAMBER OF COMMERCE
When LEGOLAND® California Resort President & General Manager, Peter Ronchetti, heard his company's name as a winner of the Community Footprint CBAD Award, back in early April, he couldn't hide his excitement as he walked up to the stage with his team. "I was really happy for the recognition for a big group of people here at LEGOLAND who give so much of their time and energy to all of the programs we showcased, especially our global charity: 'Merlin's Magic Wand' which really makes a difference to young kids' lives in times of difficulty." Ronchetti confesses that while he felt good about his company's submission for the award, "with so many top-notch businesses in the running we would never take a 'win' for granted!"
The Community Footprint award, recognizes a company for improving the lives of residents and visitors to our community, and for contributing to the overall quality of life and well-being of the community.
With so many caring companies in Carlsbad, this category had to be split up in two: nonprofit and for-profit. The Community Resource Center won in the nonprofit category and Nordson Corporation tied with LEGOLAND® California Resort as for-profits.
While the anticipation built in the room, Ronchetti, who has been in this position before, still felt somewhat nervous, as the Community Footprint Award was one of the last ones to be announced. "It's funny how even after being in external and internal awards shoot-outs for many years, it never gets easier! I'm sure we all felt a little anxious as we really wanted to bring home the award for our team!"
Omni La Costa Resort & Spa Managing Director, Brian Hughes, was in a similar situation. The Best Place to Work Award is like the Oscars' Best Picture award – the last one, the one everyone waits for, and the one Omni La Costa was a finalist for. "It was an exciting awards ceremony and so many wonderful companies were being recognized for the part they play in our community. I felt confident in our submission and in the ways we work each day to make our associates feel appreciated and special. Of course I wanted Omni La Costa to be called as the winner, so of course the anticipation was killing me!"
Omni La Costa was recognized as a Best Place To Work for being a business that puts employees first and provides amenities and benefits that distinguishes the organization as an industry leader. "I was elated when our name was called and was even more excited to be able to bring the award back to everyone at the resort. I felt an enormous amount of pride and satisfaction. It is always great to be recognized for what our associates do."
Both Ronchetti and Hugues couldn't wait to break the news with their employees, which they consider the ones that make these awards possible to begin with. "Nobody 'goes it alone' here at LEGOLAND, especially me! Our success is based upon relationships and teamwork, so it's truly appropriate to share the moment with everyone involved," says Ronchetti. For Rochetti, everyone involved meant sharing this accomplishment abroad as well."We actually broadcast the news via our global company website to 114 attractions & head office back in the UK, so you could say we were keen to spread the word!"
Back at Omni La Costa, people were waiting for an update. "We could not contain our excitement. I immediately texted our entire leadership team as soon as I sat back down in my seat. The entire resort is ecstatic and very proud. I sent an email to the entire resort announcing the award and then the leadership team personally visited each department throughout the week to show them  the award and take team photos with it.
There is a tremendous amount of pride at Omni La Costa." At this best place to work, parties are not uncommon, and during an all employee event, staff was recognized for exceptional customer service. "We celebrated with an OSC (Omni Service Champion) rally a few days later. This is where we bring every associate together in a party-type atmosphere and celebrate their accomplishments. This award was the highlight of the event!"
It is fitting that these two companies are places where you can Stay and Play in Carlsbad. Leading up to another beautiful Carlsbad summer, Ronchetti and Hughes believe the award gives them a boost to carry out their mission. "We shared the news and made sure the wider Merlin team knew about the award. Being a 'Force For Good' is at the heart of our company's mission and it's really gratifying to get the message out that we are a caring organization in a fast-moving and competitive world.
We recognize that the new workforce demand and expect  us to be good stewards of the planet's resources, to help improve peoples' lives and be respectful of our neighbors. Awards serve as a welcome 'pat on the back' for everyone and we're grateful for the consideration and platform   created for us by the Chamber", says Ronchetti. 
"The timing of receiving this award could not have been better," says Hughes. "We are in full force with recruiting for our high season and being able to publicize this on our company social media channels and through personal pages has been such an honor. Receiving this award will certainly help us retain top talent and attract more top talent to the resort. 
The most important part to us is maintaining and continuing to build on our associates' pride and love for the resort and for our guests."