April salutes creativity as a smART investment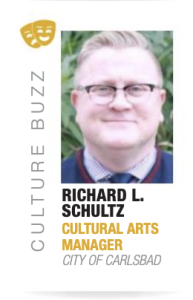 Carlsbad's creative sector continues to evolve as a key asset to the area's economic development.  It encompasses the traditional visual and performing arts, as well as culinary, game design and many others where creativity is at the heart of the business. To commemorate this thriving sector, Californians for the Arts has announced April as the fifth annual Arts, Culture, & Creativity Month.  This statewide celebration uplifts the intrinsic value of arts, culture, and creativity as not only a public good – transforming communities and individuals, but also as a driver of prosperity for local and state economies.  California is poised to establish the creative industries as a leading industry with a creative economy that contributes $507.4 billion dollars to the state's Gross Regional Product (GRP) and employs over 1.8 million workers, nearly 7.6% of the state's workforce.  Arts are essential to public services, education, health, and infrastructure; deserving of public investment and recognition. 
April is the ideal time to explore Carlsbad's creative offerings.  Here's a few suggestions:
MUSEUM OF MAKING MUSIC
5790 Armada Drive, Carlsbad
Opening, April 7, [email protected]: Artistry • Inclusivity • Connectivity celebrates the incredible possibilities enabled by MIDI in the 40 years since its public introduction. Created in collaboration with the MIDI Association, this collection of stories and media provides insight into the myriad ways MIDI has impacted music: new sonic and performance capabilities, far-reaching real-time collaboration, nearly limitless adaptability and extensibility, and more. An interactive area with MIDI-enabled instruments and other devices gives visitors a glimpse at what MIDI has made possible.


NEW VILLAGE ARTS
2787 State Street, Carlsbad 
In its San Diego premiere running through April 23, The Roommate by Jen Silverman is a dark comedy about what it takes to re-route your life – and what happens when the wheels come off.  Described as a mash-up when The Odd Couple meets Breaking Bad, this wickedly funny comedy evolves into a deeper exploration of personal transformation and emotional intimacy. As the housemates discover each other, it becomes increasingly interesting to watch them discover themselves. 


SCHULMAN AUDITORIUM AT
CARLSBAD CITY LIBRARY
1775 Dove Lane, Carlsbad
April closes out with charming performance by Los Angeles-based chanteuse, songwriter and accordionist Jessica Fichot on Saturday, April 29 at 7:30 p.m. Fichot is a lot like her hometown of Paris: French at heart, but with a soul that's truly international. Drawing from her multi-ethnic French, Chinese, and American upbringing, her music fuses styles and languages, taking the listener on a twisting journey out of the French chanson tradition, into the lands of gypsy jazz, 1940s Chinese swing, international folk, and into the wilderness of her imagination. Sponsored by the city's Cultural Arts, admission is free.