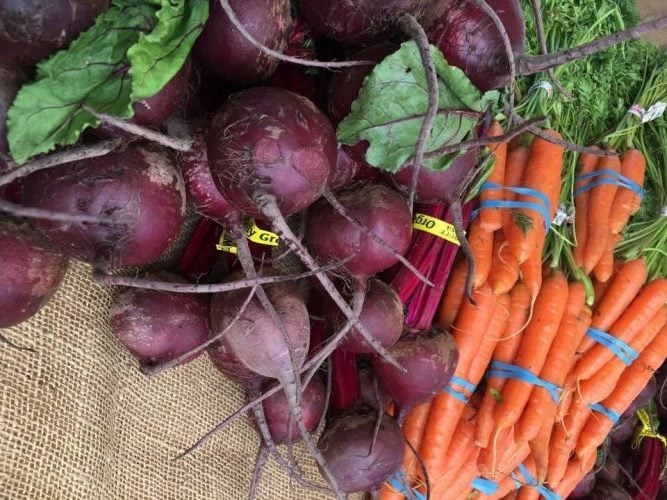 Brighten up your menu with spring flavors
By Christine Davis Program Manager Carlsbad Village Association
Whether you are trying to be healthier by eating the color of the rainbow this year, or you've just always been drawn to fresh-from-the-farm produce, the State Street Farmers' Market has your back.
The State Street Farmers' Market, also known as the Carlsbad Farmers' Market, has been in operation since 1994.  It celebrates the heartbeat of Carlsbad by being right downtown, every Wednesday, amongst the boutiques, art galleries, and restaurants that make the Village thrive. Visitors can enjoy lunch at a curb café on State Street and watch the market come alive before shopping for produce, artisan foods, and one-of-a-kind handmade delicacies. Or, after a long day at work, visitors can drop by for a bite to eat at one of the unique artisan food vendors at the market, such as Masala Cottage, Thai Style, or Anthem Vegan, before grabbing some delicious organic produce.
The State Street Farmers' Market offers 20 farmers' booths specializing in fresh, locally-grown citrus, tomatoes, avocados, mushrooms, hydroponic greens and more. Gorgeous flowers, succulents, and bedding plants can also be found. Even local raw honey can be found at the market.
In addition to its 20 farmers' booths, the market also offers 30 booths covering everything from cheesecake in a cup, to organic kombucha, to artisan loaf breads, to crunchable, vegan croutons. Handcrafted items such as candles, soaps, body butters, knit caps and jewelry make perfect gifts and round out all the wonderful food vendors.
With an increasing emphasis on what goes into our bodies these days, we are pleased to say that our market offers a wide variety of gluten-free and vegan options, in addition to its certified organic produce.
The Carlsbad Village Association is proud to be supporting Carlsbad-based businesses in its market.  While all vendors are local, several of them, including Prager Brothers Artisan Breads, Happy Pantry, Bitchin' Sauce, and Carlsbad Strawberries, are all family-run businesses located right in Carlsbad. This farmers' market is benefitting the local economy in more ways than one.
Come stroll the State Street Farmers' Market and enjoy the ambiance, quality produce and artisan food, starting at 3 p.m. every Wednesday, year-round. Extended hours start March 15 with the market open until 7 p.m. Eating healthy has never been so fun!