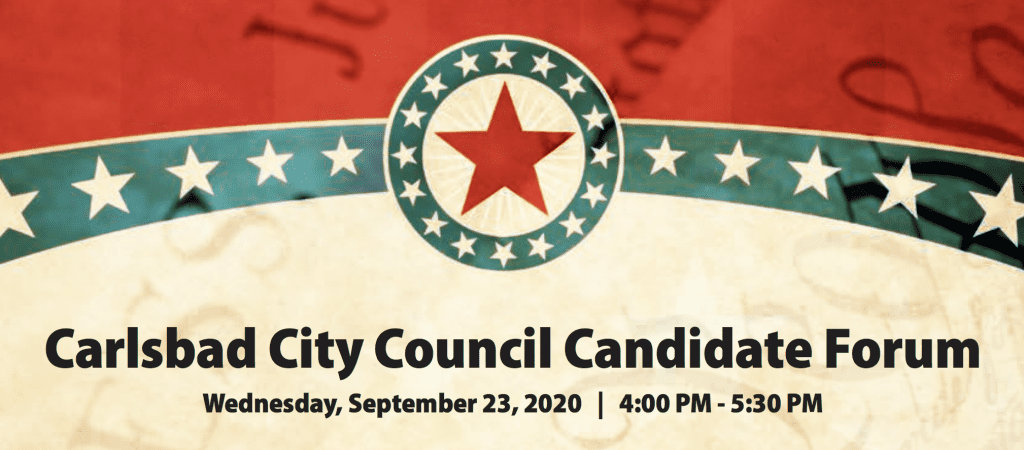 Carlsbad Chamber of Commerce Hosts Carlsbad City Council Candidate Forum
All four candidates have strong ties with the Carlsbad Chamber


The Carlsbad Chamber of Commerce will host a Carlsbad City Council Candidate Forum on Wednesday, September 23, 2020 from 4 – 5:30 p.m., with the four candidates running to represent Carlsbad District 2 and Carlsbad District 4.
District 2 candidates Keith Blackburn and Lela Panagides as well as District 4 candidates Teresa Acosta and Phil Urbina have strong ties to the Carlsbad Chamber, underscoring the relevance of the Chamber in the community. "We are gratified to see such highly qualified candidates running for public office here in Carlsbad. All of these candidates have been engaged with us at the Carlsbad Chamber for extended periods of time through many different committees and activities. This event will give the public a great chance to get to know these candidates the way we do," said President and CEO of the Carlsbad Chamber of Commerce, Bret Schanzenbach.
Keith Blackburn is running as the incumbent for District 2. He has been a Carlsbad Council Member for 12 years and served as Carlsbad Chamber of Commerce liaison for the City of Carlsbad from 2008 to 2012. He is currently the alternate Carlsbad Chamber liaison. "The Chamber has always been a great partner with the city. I appreciate our partnership and our joint efforts to make Carlsbad a thriving community here in North County," said Blackburn.
Also running to represent District 2 is Calavera Hills resident, Lela Panagides. She is currently a member of the Carlsbad Chamber through her company Leap into Leadership and is a volunteer and active member of the Ready Carlsbad Business Alliance (RCBA), which focuses on emergency preparedness, response and recovery. "As a small business owner in Carlsbad, joining the local Chamber of Commerce was one of the best decisions I've made and has elevated my engagement in the community," said Panagides. "What I like best about being a Carlsbad Chamber of Commerce member is the opportunity to expand my network across a broad spectrum of industries, backgrounds and experiences to share ideas and best practices."
District 4 is the one district in Carlsbad that seeks to have a representative in the Carlsbad City Council for the first time. Phil Urbina is one of the candidates for this district, which is located next to Encinitas. Urbina is currently a member of the Chamber through his company Opus Productivity Solutions. He has served as Chairman of the Board for the Chamber, as well as Board Member and volunteer. "I have been a member of the Chamber of Commerce for years because I believe in its ability to collectively bring together the business community.  A robust business sector benefits our community as a whole," said Urbina. "I have made many friendships with Chamber members that go far beyond the balance sheet. I've learned the challenges our local businesses face daily and I've been honored to refer and accept referrals from Chamber members."
La Costa resident, Teresa Acosta, is also running to represent District 4 in Carlsbad. Acosta is also a member of the Chamber through her company, ACOSTA + PARTNERS and currently serves as Chair of the Chamber's Government Affairs Committee and the Technology Advisory Committee. "As a small business owner, I joined the Chamber to connect with and support other business owners and professionals in my community. I jumped in with enthusiasm and was awarded Committee Member of the Year by two committees (Government Affairs and Technology Advisory)," said Acosta. "The Chamber is an important convener for entrepreneurs and small business owners like me to meet each other and exchange ideas."
The Carlsbad City Council Candidate Forum will be a Zoom Webinar moderated by the current Carlsbad Chamber Chairman of the Board, Matt Leonard. Pre-registration to attend is a must. Please register here.
If you'd like to submit questions for the candidates please email [email protected]