Carlsbad Republican Women welcome Coronado Mayor and Congressional candidate Richard Bailey on Tuesday, September 28!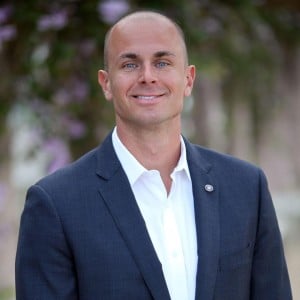 Join the Carlsbad Republican Women club (CRWF) on Tuesday, September 28th, as we welcome Richard Bailey, Mayor of Coronado and recently declared 2022 candidate for the 52nd Congressional District! Mayor Bailey has an outstanding record in Coronado and is committed to both the city and his campaign to make a difference for the San Diego region and our nation! Please join us to hear Mayor Richard Bailey speak on "Current Political News in San Diego County," and to learn how we can help him take back the 52nd!
Born and raised in San Diego, Bailey graduated from Cal Poly San Luis Obispo with a degree in Business Finance, and later graduated from the University of North Dakota with a Master of Science in Applied Economics. In 2012, he was elected to the Coronado City Council and, in 2016 at the age of 30, Bailey was elected the 51st Mayor of Coronado, becoming the youngest mayor in the city's history. Bailey was selected as one of San Diego county's "40 Leaders Under 40 Years Old" in 2018 and reelected Mayor in 2020 with 99.16% of the vote! He is also an Adjunct Professor of economics at the University of San Diego.
As Mayor of Coronado, Bailey has reduced taxes, voted against wasteful spending and supported reforms to protect taxpayers' money which helped earn Coronado a AAA Bond rating. Richard also led by example by waiving his own city pension and voted twice against his own pay raise. During his time as Mayor, Bailey made environmental initiatives a high priority by securing funds to stop the sewage spills from Mexico that forced the closure of beaches in the United States, pursuing a water reclamation plant in Coronado, and launching the 1,001-tree initiative as part of a carbon capture strategy to improve air quality.
CRWF's September 28th luncheon will be held at the Holiday Inn, 2725 Palomar Airport Road, Carlsbad. Doors open at 10:30 a.m. and the program begins at 11:00 a.m. Cost is $32 per person. Please RSVP and pay online at
www.CarlsbadRepublicans.com
; reservations close at 12:00 noon on Friday, September 24th. No payment at the door. For more information, contact Ann at (760) 415-7006 or
[email protected]
. Check us out on Facebook as Carlsbad Republican Women Federated.