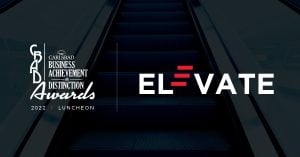 April 15, 2022
FOR IMMEDIATE RELEASE
Media Contact: Jess Levy, Carlsbad Chamber of Commerce ([email protected]) – (760) 931-8400
The 2022 Carlsbad Business Achievement & Distinction (CBAD) Awards Finalists Announced
April 15, 2022, Carlsbad, CA — Today, The Carlsbad Chamber of Commerce announces the finalists for the 2022 Carlsbad Business Achievement & Distinction Awards. Winners will be announced at the Carlsbad Business Achievement & Distinction (CBAD) Awards Luncheon: Elevate on Friday, May 20, 2022, from 11:00 a.m. to 2:00 p.m. at The Westin Carlsbad Resort & Spa. 
When asked what this year brings, President and CEO of the Carlsbad Chamber of Commerce, Bret Schanzenbach mentions, "As business move beyond the ravages of Covid, we are excited to celebrate those that elevate their organizations and innovate forward. This is a significant year that we are thrilled to be meeting with everyone together again in person to celebrate the accomplishments of so many within our community."

Carlsbad Business Achievement & Distinction Awards Finalists:
Best Place to Work:
Easy Life Management, Inc. 
GoBeRewarded Marketing Agency
Guide My Finances
Intelligence Drive Advisers (IDA)
SSA Insurance Services

Business of the Year (Small Business):
BrightStar Care of Carlsbad
Cheryl Collins Homes, Inc.
California Watersports
Coherence Associates, Inc.
Dempsey Construction
Emerge Diagnostics, Inc.
Morrison Insurance Services, Inc.
Red Lotus Wellness Center

Business of the Year (Large Business):
LEGOLAND California Resort
Quidel 
Tri-City Medical Center

Community Impact:
Encinitas Periodontics & Dental Implants
Imagine Podcasting
Mitchell Thorp Foundation
Phillips + Co. Real Estate
Senior Care Options Placement
Yoga Your Way

Innovator of the Year:
Calsense
Employees HME
Glow Theory Dermatology Studio
MiQ Partners
TJS Consulting

Nonprofit of the Year:
Audeo Charter School II
Beacons, Inc.
Carlsbad Charitable Foundation
Carlsbad Educational Foundation
ECOLIFE Conservation
New Village Arts Theatre
Jacobs & Cushman San Diego Food Bank/North County Food Bank



The event will include a special keynote address by Doug Bryant, Present and Chief Executive Officer of Quidel.
Ticket prices to be a part of this celebration are $105 for members, $160 for general public and $1200 for a sponsored table of eight. Other event sponsorship opportunities are available.
Go to our main event page to purchase your tickets.
Sponsors for the #2022CBADAwards include Grand Pacific Resorts, Tri-City Medical Center and Wells Fargo.
###
About the Carlsbad Chamber of Commerce
The Carlsbad Chamber of Commerce is the largest chamber in north San Diego County with over 1,000 members. The Carlsbad Chamber acts as a regional economic catalyst, leadership convener and community champion. The Mission of the Carlsbad Chamber is to promote business through member services, economic and community development, and public policy that balances economic prosperity with quality of life. For further information about the chamber, please contact (760) 931-8400, or visit the website at www.carlsbad.org.