Chamber launches ImpactCarlsbad.com




One of the better kept secrets in the Carlsbad community is the Carlsbad Chamber of Commerce's 501c3 nonprofit charitable foundation. It was originally launched in 1993 as the Carlsbad Companies on Campus Foundation. A bit of an odd name if you ask me (clearly, nobody did ask me back in 1993). However, even with its odd name, the founding purpose was clear and simple. The Foundation was created to support public schools serving the City of Carlsbad. 2023 marks the 30th year of existence for the Foundation and it has definitely changed over the past three decades. The name has changed twice, including most recently in 2021. The purpose has expanded and grown. But just like 30 years ago, the goal is to positively impact our Carlsbad community.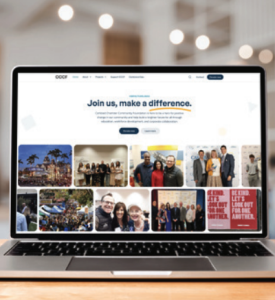 The Foundation is now called the Carlsbad Chamber Community Foundation. The mission of the Carlsbad Chamber Community Foundation is to create a talent pipeline for regional companies. We connect students and transitioning military veterans to job and career opportunities. The Foundation acts as regional conduit between the business, educational and extended communities. Talent development and recruitment has been a large challenge for businesses for many years. Since the global pandemic hit, that challenge has been exasperated. The number one economic concern nearly every business is facing right now is talent attraction and retention. Our Foundation seeks to propel the greater Carlsbad area into a talent rich environment that drives economic and community prosperity. We have several Foundation programs we currently operate to aide in this effort:

RISING STAR OF THE MONTH Our Rising Star program seeks to celebrate and champion Carlsbad high school seniors who have overcome obstacles or made significant impacts in our community. 50+ seniors are honored each year, and last year 10 were awarded $1,500 scholarships to assist them as they move to the next stage of their career development.

STUDENT OPPORTUNITIES FOR CAREER AWARENESS AND LEARNING (SOCAL) In 2020 the Carlsbad Chamber combined forces with the Oceanside and Vista Chambers, the San Diego North Economic Develop Council and Tri-City Medical Center to create SOCAL. SOCAL is an online portal for students to explore local career opportunities that are based right here in San Diego North County. The portal is searchable by industry, company name or job title. Currently we have over 100 careers that are profiled. Each profile includes a 3-minute video interview with a professional in a particular job that is shot on location. The profile also includes the average annual compensation in San Diego County, what the job outlook is for the near future, and educational resources that can be utilized if necessary.

CORPORATE KINDNESS INITIATIVE After the social unrest that gripped our country in 2020, we launched an initiative with our friends at Kids for Peace to bring kindness into corporate America. Currently we have nearly 100 Carlsbad-based companies that have committed to be kind to their people, good to the environment, and supportive of their community. And this movement has grown beyond Carlsbad. We now have 27 chambers across the Western US who are promoting this program. We have several other initiatives we hope to launch in the near future, including a Jr. CEO program, a Boots to Business initiative with exiting military personnel and more. To bring our foundation to life, this month we are launching ImpactCarlsbad. com – our Foundation's first-ever website. Here you can learn about our initiatives, meet our board members, research our history and more. And of course, please consider making a donation while you visit our website. Please visit ImpactCarlsbad.com today and let's make Carlsbad great for generations to come. Stay cool Carlsbad!