Community Resource Center, Nonprofit of the Year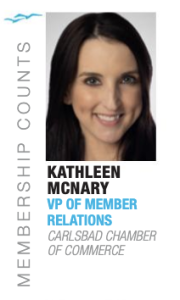 Back in April this year the Carlsbad Chamber of Commerce honored 6 businesses, 2 nonprofits, 3 teachers, 2 administrators, 1 Carlsbad Police Officer, and a dozen long-term chamber members at the 2023 Carlsbad Business Achievement & Distinction Awards. This year has been thrilling for us. We have been celebrating our 100th year of Impact.
When I say "we", I mean the Chamber members, city, schools and staff. Following the Awards, we have been consistently excited to commemorate, celebrate and inspire our business and civic community all year long. Celebrating all the makes Carlsbad thrive. As a nonprofit ourselves, one of the incredibly rewarding opportunities has been to celebrate the nonprofit of the year.
This one is always so difficult as there are so many organizations that can take your breath away when you learn who and how they help our community. The winner is never disappointing though, and this year it has been the Community Resource Center! The Community Resource Center was developed for those experiencing homelessness or at risk of homelessness, providing help with housing, rent and utilities.
Established in 1979, CRC has grown from providing basic needs for families in crisis, to offering extensive programs that facilitate the safety, stability, and self-sufficiency of low-income and episodically homeless households – including domestic violence (DV) victims. Just last year the City Council approved a contract with the Community Resource Center to provide rapid re-housing assistance and case management services to 60 individuals and households experiencing homelessness in Carlsbad find a permanent home.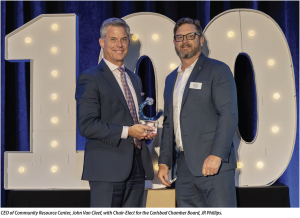 Rapid re-housing provides shortterm rental assistance and services to help households access permanent housing. It has been found to be a best practice and an effective model in reducing the number of people experiencing homelessness.
We are amazed and incredibly grateful for the Community Resource Center, their staff and volunteers. Thank you for all you do!