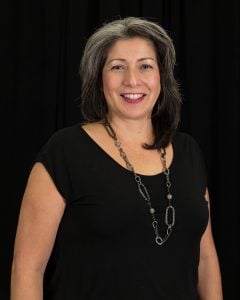 Dr. Patricia L. Prado-olmos
Vice President of Community Engagement
California State University San Marcos
Since he became eligible to receive the COVID-19 vaccine as part of Phase 1B in late February, Adam White has been trying in vain to book an appointment for his first shot.
So when the Cal State San Marcos police officer got an email on March 19 informing him that he could now be vaccinated through the first clinic available exclusively to members of the campus community, he jumped at the opportunity.
A few days later, White was at the front of the line as CSUSM kicked off its effort to inoculate staff, faculty and students who have not been able to secure vaccine appointments through their health care provider or San Diego County-run sites around the region.
"It's a huge relief," White, in his 15th year as an officer at CSUSM, said as he sat on a folding chair in the observation zone for 15 minutes after receiving his shot. "I believe the vaccine will allow me to do certain things as life begins to return to normal, like travel and go to concerts."
The opening of the on-campus clinic was the culmination of almost three months of work led by Erin Fullerton, director of Integrated Risk Management, in concert with a team from Safety, Health and Sustainability. CSUSM applied to host a vaccine station on Jan. 5, and the request was approved by the state about a month later. Since early February, the university has applied each week to receive a shipment of vaccine doses from the county, and each week it has been denied.
Until March 19, that is, when CSUSM learned that it would be receiving 100 doses of the Moderna vaccine, which would need to be administered within a week. The vials arrived the following week at the campus loading dock, where Fullerton was on hand to accept them along with Zachary Nortz, a Master of Public Health student who has been hired as a temporary employee to assist with the logistics of the vaccine clinic. Fullerton then ushered the precious cargo – she even secured the box in her car with a seatbelt – to the Student Health and Counseling Services building, where it was stored in a special freezer before being brought out in a temperature-controlled cooler for use the next day.
Fullerton described the event as the most satisfying thing she has done in the year of the pandemic.
"It's super exciting," Fullerton said. "It's not just getting the shots in arms. It's the emotional and psychological aspect of this. I have felt a lightness around campus, like, 'We're really doing this; this is real. We're not just hearing about other people getting vaccinations.' This is the symbolic beginning of that light at the end of the tunnel."
Fullerton and her team knew only that the vaccines they'd be getting would be in lots of 100, so for the last six weeks they have been planning the nuts and bolts of running a clinic that could have been many multiples larger. For the first three-hour session, they prioritized employees at the highest risk of contracting COVID-19 – in this case, those working on campus and anyone 65 or older.
The shots were given by three CSUSM nursing students, supervised by two nurse practitioners from SHCS. President Ellen Neufeldt stopped by midway through to see the clinic in action and thank the organizers for their efforts.
"It's been a wild ride over the last month, a series of crests and troughs, but this has gone better than I hoped it would. I think we really nailed it," said Nortz, the MPH student. "This is a momentous occasion in the fight against COVID, and I'm so excited to be part of this group."