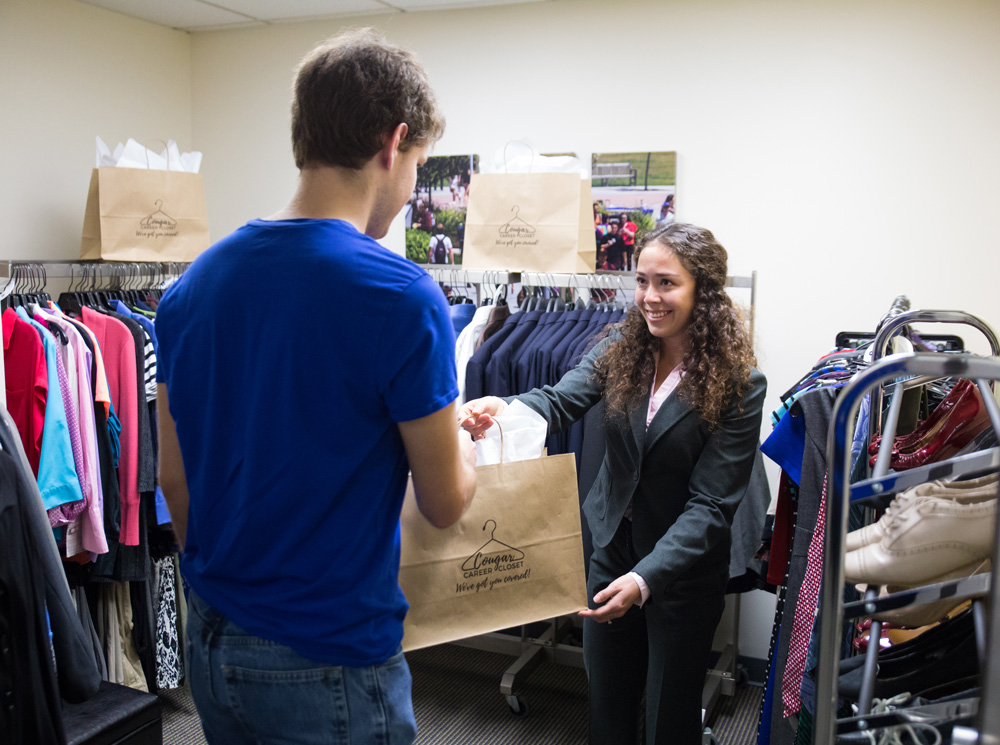 Dressing for success thanks to CSUSM Career Closet
By Dr. Patricia L. Prado-Olmos Vice President of Community Engagement California State University San Marcos
California State University San Marcos' Latino Business Student Association wasted no time in opening a space on campus stocked with gently used professional clothing that is free for all CSUSM students in need of proper attire for career-related events.
Just three months after coming up with the idea during a winter break retreat, the Latino Business Student Association celebrated the grand opening of the Cougar Career Closet in April.
"It's really remarkable how fast these students moved on this idea and brought it to fruition," said Dr. Rebeca Perren, an assistant professor in the College of Business Administration's Marketing Department. "It's so motivating and exciting to see students take the initiative on a project like this. It fuels our desire as educators."
Josefina Espino, the Latino Business Student Association's executive secretary, said the idea evolved during winter break as the group was finalizing plans for April's Dress for Success fashion show, which helps students learn about dressing for job interviews, networking, internships and graduate school interviews.
"When we were getting into the details of the Dress for Success, we began thinking, 'Hey, what about students who don't have professional clothes at home?' " Espino said.
Within days, plans for a Career Closet were being finalized. Within weeks, they were receiving contributions.
The CSUSM Career Center provided a space in Craven Hall. A College of Business Administration grant funded clothing racks, hangers, lint rollers, size dividers, mirrors and other supplies. Jim Hamerly, dean of the College of Business Administration, donated a rack of business jackets. Executive in Residence Emilie Hersh held a reception at her home in which a group of women donated an entire wardrobe of professional attire.
"We didn't expect the support we've been getting," Espino said shortly before the Career Closet officially opened. "It's been phenomenal. We've been getting help from COBA, from the Career Center, from faculty and from staff. It's just been great to see. The support really underscores what the university is all about."
About half of all CSUSM students come from low-income households, and roughly 70 percent come from traditionally underserved communities.
"There are a lot of students who don't have professional clothes to wear for when they go out on an interview," said Daisy Bueno, president of the Latino Business Student Association. "You see it a lot when you have presentations to make in a business class, and some people can only afford to come in slacks and a T-shirt. It happens all the time."
The Cougar Career Closet continues to seek new or gently used business professional clothing for men and women of all sizes; two-piece suits; jackets and blazers; blouses and dress shirts; dress pants and skirts; ties; and new or gently worn dress shoes. Clothes should be cleaned before donation and be in good to excellent quality.
"We want to leave a lasting impact on the university and the students at the university," Bueno said.
Donations can be made at the CSUSM Career Center (Craven Hall 1400), Monday through Thursday from 8 a.m. to 5 p.m., and Fridays from 8 a.m. to noon. All donations are tax deductible.
Visit csusm.edu/coba/ccc for more information on the Cougar Career Closet.