Celebrate the most wonderful time of the year with the gift of delicious and healthier Mediterranean food, made fresh daily from Panini Kabob Grill (PKG)! PKG is located in the Square at Bressi Ranch shopping center and is the ultimate secret ingredient to your best holiday season yet; whether you choose dine-in, takeout, delivery, or catering.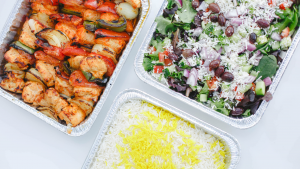 PKG's diverse menu offers a wide range of tasty choices (e.g. vegetarian, vegan, pescaterian, etc.). Their most signature dish is the Charbroiled Chicken Shish Kabob, however, they also offer beef koobideh, flat iron steak, grass-fed lamb, Atlantic salmon, jumbo shrimp, organic tofu, and mushroom kabobs along with a variety of paninis and wraps. Their other cannot-miss specialties is the Family Style, which is perfect for sharing with a party of four at an affordable price. It includes three skewers with juicy chicken and vegetables, choice of rice (basmati, brown or bulgur wheat pilaf ), and choice of salad (romaine avocado salad, caesar salad, and Mediterranean Greek salad). When ordering for takeout or delivery, you can similarly get their Family Kabob Combo (4), which includes the same choice of rice or salad but with four skewers of chicken and vegetables instead.
If you are sharing a special dinner with your loved one or hosting family members coming into town, PKG will welcome you and make you feel right at home when you dine in. From the light mahogany wood paneling illuminated by ambient lighting in the cozy dining room to the natural granite table that line the spacious outdoor patio, the restaurant's design is modern and clean yet warm and inviting so everyone (family, friends, and coworkers) can enjoy their dishes in a relaxed, comfortable atmosphere. If you are hosting the party at home or at your office, PKG offers convenient takeout, online ordering, curbside pickup, and (contactless) delivery options. As well, they offer a catering menu so you can easily pick and choose your favorite items as trays and feed everyone.
As a true scratch kitchen concept, PKG delivers exceptional Mediterranean cuisine due to its daily commitment in preparing food in-house from scratch daily with fresh, exceptional quality ingredients. For example, the meats used are antibiotic/hormone-free and humanely raised, sourced from reputable vendors like Wayne Farms and Cedar River Farms. Whether it's the kabobs freshly grilled to order, the falafels handcrafted with pure garbanzo beans and herbs, the tiramisu baked in-house on-premises, or even the salad dressings and hummuses, their staff carefully prepares each dish from scratch in-house (instead of using premade, frozen meals) so you can enjoy the tastes and comforts of a homemade meal without wasting precious time that may be better spent with loved ones instead. Enjoy the Mediterranean with PKG this holiday season!
For catering orders over $1000, reach out to our Catering Team at [email protected] or 949-788-1620. PKG's Carlsbad restaurant is located at 2622 Gateway Road, Suite 100, Carlsbad, CA 92009. For more information and full menu please visit www. PaniniKabobGrill.com or download the My PKG app, available in both the Apple Store and Google Play Store.