From classroom to career

Dr. Ben Churchill 
Superintendent
Carlsbad Unified School Distrcit


At Carlsbad Unified we strive to prepare our students with the future-ready skills they need to build successful careers and fulfilling lives. We aim to expose our young people to a wealth of career pathways, bringing the world of work into the classrooms, and taking our students out into business and industry so that they can find their passions and learn real-world skills.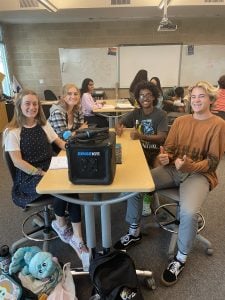 A career at an award-winning design and production company? CHSTV teachers Doug Green  and Kurt Kohnen's Broadcasting class was visited by a former student, Gary Koopsen, who is now Creative Director of Drive Studios, a premier video production agency. Mr. Koopsen found his love of video production as a student in Broadcasting programs at Aviara Oaks Middle School and CHSTV. He credits much of his career success to Mr. Green and to his experiences as a student in those programs, which provided him with the hands-on, relevant, academic and technical training that led to his current successful career. Students in the
Carlsbad High School Broadcast Journalism Pathway were thrilled to meet Mr. Koopsen and learn about his technical work in state-of-the-art graphics, show packages, and visual effects.
Or become an inventor and entrepreneur? Sage Creek High School Engineering Design Pathway students recently met inventor and entrepreneur Chris Crawford. Mr. Crawford developed a product in his garage called Rinsekit, an innovative portable shower designed for surfers, campers, and others in need of a quick clean-up on the go. He pitched Rinsekit on Shark Tank, and his product took off globally. He now owns over 38 patents and many products. Mr. Crawford spoke to the SCHS students about the process of taking an idea from a prototype to a final design. He also explained the patenting process and how to scale a product into a successful business.