Here comes Taste of Carlsbad Village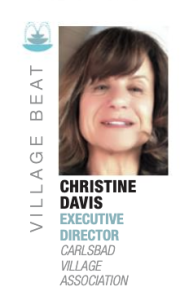 For five years, the Carlsbad Village Association has hosted the culinary and beverage event of the year in downtown Carlsbad! With 37 eateries, 16 Sip Stop locations, eight live musical acts, and the most festive atmosphere we've ever created, this year's event is one you do not want to miss. Taste of Carlsbad Village takes place on Thursday, October 12th from 5pm to 8pm.



From the essential culinary musthaves to the hottest new eateries, Taste of Carlsbad Village presents the best restaurants, chefs, wineries, craft brew, and specialty drinks the Carlsbad food scene has to offer. Carlsbad Village Association limits the number of tickets sold to 1,000 to ensure a quality experience for all involved. This is our very favorite event of the year. It truly brings community together in an exciting and unique way. Ticket holders get to experience the incredible culinary scene in downtown Carlsbad while finding new retail businesses along the way. It is a joyous night in the Village that directly supports the small businesses downtown.

WHAT TO EXPECT
This self-guided tour of Carlsbad's amazing downtown, complete with local musicians playing along the route for awesome ambiance, is fun for everyone! Whether you are dining solo, are a couple out for a night of fun, on a group date night or a girls' night out, or even a family adventure, Taste of Carlsbad Village is the place to be. With a passport as a guide and a reusable, monogrammed stainless steel spork (and sip cup if a Food + Sip Stop ticket is purchased) in hand, patrons navigate their way through downtown Carlsbad, meet the restaurant owners, managers, and chefs, and enjoy tasty bites at each participating location. For those with an upgraded Food + Sip Stop ticket, craft beer, wine, and cocktails provided by local beverage companies and located in retail locations along the route, are also available.

The retail locations host the Sip Stops allowing patrons to browse, shop, and discover new small businesses that are sure to become new favorites. "We are committed to making this event more and more environmentally friendly each year," Davis said. "We introduced compostable products to Taste of Carlsbad Village early on and now also use stainless steel, reusable serveware. With the support of Republic Services, we are doing our part to properly dispose of trash, recyclable items, and organic waste and are educating the restaurants and public in the process."

THE TING INTERNET VIP EXPERIENCE
The VIP Experience has been reimagined for its 3rd year. Generously sponsored by Ting Internet, the VIP Experience includes a Food + Sip Stop ticket for the Taste of Carlsbad Village, but elevates the event for 100 lucky guests! VIP ticket holders start their evening an hour earlier and enjoy a private champagne reception hosted by Barrio Glassworks. VIP guests will enjoy on-site reserved parking and savory Carlsbad Cookie Co. shortbreads or Chuao chocolate truffles paired with champagne options presented by Fig & Feather Bar Co. The Ting VIP gift bag includes a custom blown glass cocktail glass from Barrio Glassworks and a sweet gift from Chuao Chocolatier! Tickets, on sale Monday, September 4, start at $45 and go up to $100 for the VIP Experience.

Visit www.carlsbad-village.com for ticket purchase details. This event sells out quickly every year!