Matt Sanford
Economic Development Manager 
City of Carlsbad 

Although most of us never actually see it, Carlsbad is home to a bustling manufacturing industry. Our industrial parks are teeming with activity that spans across tech, life sciences and design.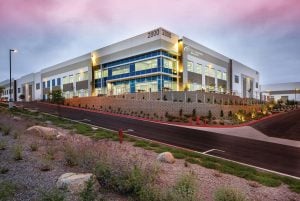 What's more, these Carlsbad companies are producing goods that change the way our world works.
Take SMAC Moving Coil Actuators (SMAC), for example. You've likely driven by their facilities on Van Allen Way without realizing it. But inside their 180,00-square-foot campus, their 200 employees are producing all sorts of impressive electronic devices — including robotic fingers with incredible precision that are used to assemble the smartphones in your pocket.
SMAC manufactured about 20,000 devices last year, and is on track to produce 40,000 this year. In fact, President Ed Neff says the company plans to double in size this year, and next year.
"We're able to do that because we can grow in Carlsbad while keeping our costs down," he adds. "By staying cost-competitive, we can beat about 25% of applications in the older pneumatic automation industry with high technology devices that are equal in price. The technology and price allows SMAC to be competitive in Asia. And this is an $8 to $10 billion industry."
And not too far down the road, another company, Aethercomm is also going full steam with its manufacturing. Inside their collective 97,000 square-foot space, they produce electronic hardware used by all branches of the U.S. Government's Armed Forces. Their systems are used on battlefields around the world, helping to save the lives of our troops.
Just recently, they dedicated 10,000-square feet to a clean room, where they will build flight hardware for missions to space. This will include state-of-the-art technology capable of powering deep space satellite missions.
Both of these companies underscore the caliber of manufacturing potential here in Carlsbad. And this sector is poised to continue thriving because thankfully, we have an incredible talent pool ready to fill these manufacturing jobs.
Right here in Carlsbad, MiraCosta College Technology Career Institute (TCI) can help manufacturing companies find ideal candidates. They offer accelerated, hands-on skills training programs — which are now coupled with State-funded, paid internships. This talent pipeline is a tremendous asset to local manufacturing companies ready to grow.
TCI also provides low-cost employee training programs at work sites. These programs help upskill the existing workforce, accelerating management and leadership skills. This is yet another great option for manufacturing companies who want to strategically scale their operations.
No doubt, the horizon for manufacturing in Carlsbad is bright. We have the right facilities, talent and resources for success. And of course, being by our beautiful beaches doesn't hurt, either.
If you're interested in learning more about manufacturing in Carlsbad, I encourage you to reach out to me at [email protected] gov. My team and I are always happy to help