MiraCosta College awarded over $1.6 Million in NSF Grants to boost biotechnology education and career pathways


MiraCosta College is excited to announce that it has received two significant grants from the National Science Foundation (NSF) to advance biotechnology and biomanufacturing education for diverse, underrepresented community college and high school students. The combined total of the grants exceeds $1.6 million. "As an educational institution at the forefront of life sciences and biotech training, the federal investment through these two NSF grants will support MiraCosta College's advanced workforce development programs," explains MiraCosta College President/ Superintendent Dr. Sunita "Sunny" Cooke.
"Through experiential learning, we prepare people for tomorrow's jobs, enhance socioeconomic development, and transform communities. Investments like these don't just fund programs; they fuel innovation, serving as the lifeblood of America's technological and economic leadership on the global stage."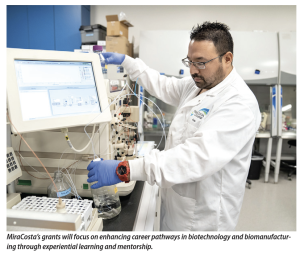 About the Grants
BioSCOPE — Bridging Pathways in Bioscience Education This grant of $649,986 is allocated for a project that aims to remove the fear of science and offer hands-on, industry-relevant skills to students. The BioSCOPE (Bioscience Supply Chain Operations Projects for Education) model will enable students to produce laboratory reagents and consumables that meet industry quality standards. These products will be distributed to high schools as components of laboratory kits, encouraging seamless transitions for students from high school to community college bioscience programs.
The project is a collaborative effort between the Bioscience Workforce Development Hub at MiraCosta College, the Bay Area Bioscience Education Community (BABEC), and Laney College.
Empowering STEM Cohorts for Biomanufacturing Careers
The $1 million grant aims to create robust pathways for students in emerging biomanufacturing technologies. The project offers internship, pre-apprenticeship, and apprenticeship experiences in biomanufacturing, targeting underrepresented groups in STEM (Science, Technology, Engineering, and Mathematics).
This groundbreaking initiative will enhance the employability of MiraCosta students and address the need for an inclusive, diverse, and skilled workforce in the industry. The project is in alignment with the NSF ExLENT Program.
Mike Fino, the Dean of Math and Sciences at MiraCosta College, stated, "These NSF grants are a significant milestone, not just for MiraCosta College, but for the future of biotechnology and biomanufacturing education in California. They will provide invaluable opportunities for our students to engage in real-world applications of science and technology, thereby opening doors to fulfilling, high-wage careers in sectors that are crucial for our society's well-being."
Both grants focus on enhancing career pathways in biotechnology and biomanufacturing through experiential learning and mentorship. Measurable outcomes include the impact of mentorship and internships on retention, completion, and employment rates for diverse student populations.