It's time to get ready for National Farmers Market Week! Now in its 24th year, National Farmers Market Week (August 6-12, 2023) is an annual celebration that highlights the vital role farmers markets play in our nation's food system. It is also a great opportunity to show- case how much value Carlsbad's downtown farmers market brings to its community.
The State Street Farmers Market has been a staple in downtown  Carls-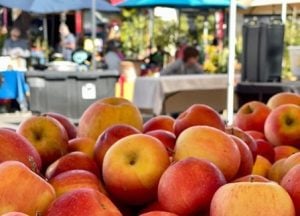 bad for nearly three decades. Originally called the Carlsbad Farmers Market and lo- cated in a parking lot on Roosevelt Street, tucked between a bank, apartments and office buildings, it opened with 20 eager vendors to much public fanfare. It was an and yummy too!
Also new this year is a rotational "hot food" guest vendor program. Alongside our regu- lars who cook up tasty Kenyan, Thai, Indian food and more, we also have visiting ven- dors offering fresh fish burritos, gourmet grilled cheese sandwiches, Spanish pael- la, and authentic Filipino food. The variety keeps our customers coming back for more!
And this year CVA is working with the City of Carlsbad on the state's single use plastics initiative, continue our promotion and delivery of reusable bags, and be an educational hub to help inform others.
With over 60 vendors at the State Street Farmers Market, you are certain to find plenty to make you and your family happy. From lo- cal, picked-that-day produce and flowers to freshly baked bread, croissants and pastries to creative artisan foods, cheeses, sauces, dips, decadent sweets, and more, the shopping experience is always delightful. And knowing that you are supporting over 60 small businesses and farms as you shop, makes it even immediate success and became part of the fabric of Carlsbad Village. Nineteen years later, in 2013, to help create a more vibrant downtown and enhance its retail offerings, the market was relocated to State Street, between Carlsbad Village Drive and Grand Avenue. It has grown and flourished in its current location over the past 10 years and is now more popular than ever!
Farmers Markets have evolved tremen- dously since their early days. A push towards certified organic, meaning that farmers and businesses have met strict standards for the growing, processing and handling of their products, and are certified by the USDA, is an achievement not every market shares. The State Street Farmers Market is proud of its certified organic status and continually looks for ways to keep its market on the cut- ting edge.
As the desire for healthier food options has grown, including vegetarian, gluten free and vegan, and minimally processed foods as well, the appeal of local, outdoor mar- kets has increased. The State Street Farmers Market is proud to feature a wide variety of products including line-caught fish, as well as pasture raised chicken and eggs, and grass fed and finished beef from local, sustainable, family farms. Knowing that sus- tainable practices, including regenerative grazing are being used and fostered every day, is one of the things that makes farmers markets so beneficial.
What's new in 2023?
To help shoppers use farmers market products in their own kitchens, the Carls- bad Village Association (CVA) has joined forces with a local award-winning chef to bring creative and fun cooking demonstra- tions to the market on the first Wednesday of every month. Using ingredients from the farmers market, watch a chef create a signature dish live, from start to finish, in record time, at the top of the hour (3pm, 4pm, 5pm and 6pm) complete with deli- cious samples and an ingredient list and recipe to boot! You can enjoy everything from a simple heirloom tomato and bal- samic summer bruschetta to pork medal- lions with a cherry reduction. It is great fun more worthwhile and impactful.
On August 9th, to celebrate National Farmers Market Week, the CVA staff will be giving away some incredible market bounty bags to lucky winners. Follow us on Instagram @carlsbadfarmersmarket and @carlsbadvillage and stay tuned for the big day.
Join us every Wednesday starting at 2:30pm in the heart of Carlsbad. There are public parking lots on Roosevelt Street as well as the south end of State Street and by the Coaster Station too. Learn more about the State Street Farmers Market and its ven- dors at carlsbad-village.com/farmers, where you will also find information on rotating guest vendors and special events.