Open House at MiraCosta Technology Career Institute on October 6:
Discover Our New Labs and Programs
(Source / MiraCosta, September 2023)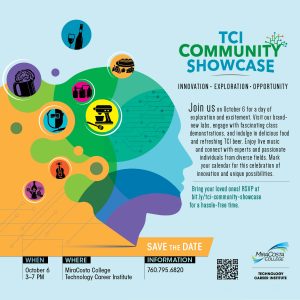 MiraCosta Technology Career Institute (TCI) invites the community to an open house on Friday, Oct. 6, in Carlsbad. During this event, we will unveil our three new labs in welding, BrewTech, and food technology. Guests can also enjoy appetizers, beer tastings, and live music.
Our state-of-the-art welding lab is designed to help students advance their skills in the field. The food technology lab features courses taught by Chopped Champion Chef Eliza Martin, who guides participants in creating gourmet dishes.
For nearly a decade, MiraCosta TCI has been a leader in offering accelerated work skills programs. These programs enable individuals to gain job-ready skills in just one semester. "Having all of our key programs in one location will allow us to better serve our community," said Linda Kurokawa, TCI's Executive Director. "This includes implementing the latest technology, like a second brew house for our BrewTech program."
Beyond the new labs, the open house will also spotlight TCI's community enrichment classes. Guests can participate in demonstrations and activities in art, music, cooking, and wine tasting led by our expert instructors.
The open house is free to attend and will take place from 3-7 p.m. at 2075 Las Palmas Drive in Carlsbad. To RSVP, please visit bit.ly/tci-community-showcase.
For additional details, please call 760.795.6820. We also offer public tours every Friday at 9 a.m., no reservation needed.
We look forward to welcoming you to TCI and showcasing the exciting opportunities we offer.
About MiraCosta College
The MiraCosta Community College District (miracosta.edu) has served the coastal North San Diego County area for over 88 years. More than 19,000 credit students in over 80 disciplines enroll annually in associate degrees, university transfer, and workforce readiness certificate programs. The college also serves students with a broad spectrum of educational needs in the region, ranging from programs for adult education, adults with disabilities, career preparation, older adults, and English as a Second Language (ESL). Additionally, students enjoy the fee-based programs through the District's Technology Career Institute in Carlsbad. MiraCosta College is one of 15 community colleges in California that offers bachelor's degrees to help students get jobs in high-demand fields. The college's bachelor's program in biomanufacturing prepares students to work in biological production, the unique segment of biotechnology where science thrives in partnership with quality and compliance.
As a Hispanic Serving Institution (HSI), veteran and military supportive institution, and Achieving the Dream Leader College, MiraCosta College fosters the academic and holistic success of its diverse learners within a caring and equitable environment to strengthen the educational, economic, cultural, and social well-being of the communities it serves.
MiraCosta College is accredited by the Accrediting Commission for Community and Junior Colleges (ACCJC) and the Western Association of Schools and Colleges (WASC).