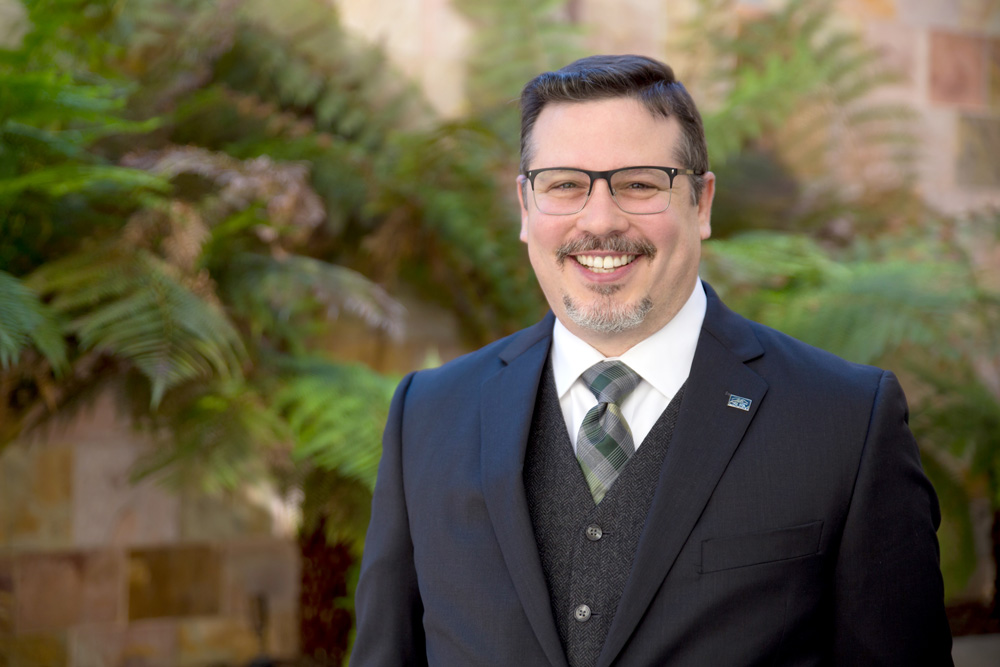 Promoting campus inclusion
By Dr. Patricia L. Prado-Olmos Vice President of Community Engagement California State University San Marcos
Cal State San Marcos welcomed a new face to campus. Dr. Joe-Joe McManus started work as Chief Diversity Officer and Associate Vice President at the Office of Diversity, Educational Equity & Inclusion in January.
Though he has been at CSUSM just a short time, McManus is impressed by what he has seen.
"The culture here has developed to where there is a real desire to be a leader in educational equity," McManus said. "President Haynes is deeply committed, and I see a great deal of genuine support across the campus community, at every level."
McManus is responsible for working with colleagues and partners across the University to implement CSUSM's Diversity and Inclusion Strategic Plan.
McManus most recently served as the Vice President for Diversity & Inclusion with the Kingston Bay Group, a coaching, consulting and search firm specializing in diversity, equity and inclusion issues for public schools, colleges and universities. While with the Kingston Bay Group, McManus also worked part-time as a faculty member and consultant with Urban Outreach Initiatives at Boston College's Lynch School of Education. In addition, he serves on the board of directors of Rootstrong, a nonprofit committed to multicultural leadership education and development. For the past 11 years, he has also been a board member of the Diversity Collegium, a cross-sector think tank of diversity practitioners.
McManus grew up in Carver, Mass., the son of an Irish Catholic father and Jewish mother. He was one of three boys. A brother, Kacey, was adopted and African-American.
"My brother, and the family in general, endured a lot of racism and bigotry when I was growing up," McManus said. "My folks ran what we call in Massachusetts, a 'packie' and we had an apartment in the back. We were seen as very poor, and from a very early age I was forced to deal with issues of race, class and religion."
McManus found a refuge in basketball. He was looking forward to a college scholarship to a Division I school, but those plans changed when Kacey became a victim of suicide at just 17 years old.
"I didn't want to play basketball anymore," McManus said. "I didn't want to go to college anymore."
McManus' parents refused to give up, pushing him to become the first in the family to earn a college degree. At Florida Institute of Technology, McManus earned his bachelor's in psychology and began his journey toward becoming an educator focusing on issues of diversity and social justice. He earned his master's in multicultural education from Alliant International University, and his Ph.D. in educational leadership from Florida A&M University.
McManus' priorities at CSUSM include completing and implementing the Diversity and Inclusion Strategic Plan and working with faculty, staff and students to continue to build on the foundation of excellence in educational equity, inclusion, and social justice at Cal State San Marcos.