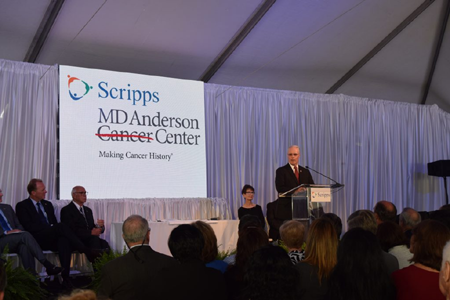 Scripps Health partners with MD Anderson in cancer care
Scripps Health and The University of Texas MD Anderson Cancer Center have reached a partnership agreement to create Scripps MD Anderson Cancer Center, a comprehensive and clinically integrated cancer care program in San Diego that will provide adult cancer patients greater access to the most advanced oncology care available throughout Southern California.
"MD Anderson is the top-ranked cancer center in America, with unparalleled experience, resources and expertise," said Scripps Health President and CEO Chris Van Gorder. "This exciting new alliance will give Southern Californians easy access to MD Anderson's proven, research-based approaches to cancer care right here in San Diego. Our partnership builds on Scripps' history of providing exceptional cancer care to our region and will enable us to offer the best cancer treatment available anywhere, here at Scripps."
A Deeply Integrated Program
Scripps MD Anderson will be overseen by physician and administrative leaders from both organizations. It will offer patients access to MD Anderson's world-renowned treatment protocols, standards of care, extensive clinical trials and translational research. Patients also will have access to comprehensive cancer care, including medical oncology, radiation oncology, surgical oncology, pathology, laboratory and diagnostic imaging, as well as other clinical and support services.
MD Anderson Cancer Center will bring a multidisciplinary approach to local cancer patients and provide a new dimension of innovative care and treatment options. Through joint tumor boards, MD Anderson also will provide opinions for diagnosis and treatment.
The two organizations also will join forces in the recruitment of all future program physicians and other health care professionals, many of whom will have access to training and education at MD Anderson Cancer Center. Scripps physicians also will have the opportunity to earn faculty appointments at MD Anderson Cancer Center. A national search will start soon to hire a medical director to lead the new program.
The program will offer a patient-centered approach to care, with multidisciplinary teams of oncology specialists supporting patients and families in making informed, evidence-based medical decisions. It will also offer an array of patient support services, including genetic counseling, nurse navigation, integrative medicine, palliative care, imaging services and social worker assistance in one convenient, patient-friendly environment. 
"We are proud to partner with Scripps and work collaboratively to offer cancer patients in Southern California access to the world's best possible cancer treatment," said Ronald A. DePinho, M.D., president, MD Anderson. "Through our Cancer Network, we are working to deliver leading-edge research and groundbreaking clinical advances to patients across the nation. Through these fully integrated partnerships focused on prevention, early detection, research and treatment, we have an opportunity to dramatically reduce the pain and suffering caused by cancer for many and for generations to come."
Partnering with a Powerhouse
Celebrating its 75th anniversary year in 2016, MD Anderson is a global leader in cancer care, research, prevention and education. It was ranked the No. 1 cancer hospital in 2016 by U.S. News & World Report's annual "Best Hospitals" rankings and the leading cancer hospital for nine of the past 10 years.  
MD Anderson is home to the largest cancer clinical trials program in the nation. Last year, more than 9,400 patients were enrolled in trials exploring innovative treatments.