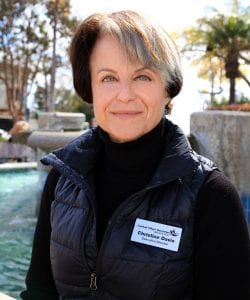 Christine Davis 
Executive Director 
Carlsbad Village Association 

At the recent State of the Community presentation, the Carlsbad Village Association (CVA) was honored to receive the Ready Carlsbad Business Alliance Commitment to Emergency Preparedness Award for its efforts during 2020 supporting businesses in downtown Carlsbad. The CVA staff and volunteer Board of Directors were grateful for the recognition and proudly accepted the award on behalf of the tenacious small businesses in Carlsbad Village. Expanding a bit on the mayor's theme of "turning lemons into lemonade" CVA would like to brag a little bit more on how amazing its downtown businesses truly are.
Starting a business is hard enough without the pressures of a national pandemic looming overhead. However, despite the unprecedented situation, more than one business opened its doors during this perilous time. Many did. Au Savon de Provence, a French soap store; Le Papagayo, an upscale Mediterranean and Latin fusion restaurant; and Froglanders, a yogurt shop that also serves up specialty crepes, are just three of many who hung their shingle in Carlsbad Village during the pandemic.
Two especially innovative businesses, Pure Project and Barrio Glassworks, opened their doors for the first time on very auspicious days. Pure Project launched its tasting room on the day of the second restaurant shutdown in the summer of 2020 but created an innovative "to-go" model for their handcrafted beer that was successful from day one. Barrio Glassworks, a public glassblowing studio and retail gallery, opened its doors after a lengthy, multi-year construction effort, the first weekend of December 2020, just as San Diego County issued a new regional stay-at-home order. Despite the gloomy economic future, they were able to safely perform live glassblowing for the public and fill their retail gallery with artwork from numerous local glass artists and become a thriving destination for locals and tourists alike.
Other businesses took advantage of their shuttered doors to renovate and recreate themselves. 264 Fresco added a roof top tapas patio to their ocean view restaurant and converted their large parking lot into an outdoor dining area that rivals any in the Village, while New Village Arts began the process of major repairs and expansion of their community theater. In addition to building a new relationship with the Flower Fields so that they could continue to provide performances to the public in an outdoor venue, Executive Artistic Director, Kristianne Kurner and team began working with the city on roof and wall repairs. They also launched fundraising efforts and brought full circle a campaign to undergo a complete remodel of the existing building. When finished, New Village Arts will have a new community gathering space, second performing arts space, an expanded arts education center, as well as a remodeled and more modern stage and theater.
And, during 2020, the Carlsbad Village Association, learned how to operate a public Farmers' Market under extreme health and safety restrictions, utilizing almost 500 volunteer hours in the process, while also recreating the events it did not have to cancel as either outdoors and self-guided, or virtual.
While we all wish that 2020 was fully behind us and merely a memory, it appears that some of it is still lingering today. But, with everything the business community in Carlsbad Village has learned over the past 17 months, and with the support of Carlsbad's business organizations behind them, the future still looks bright with a silver lining.