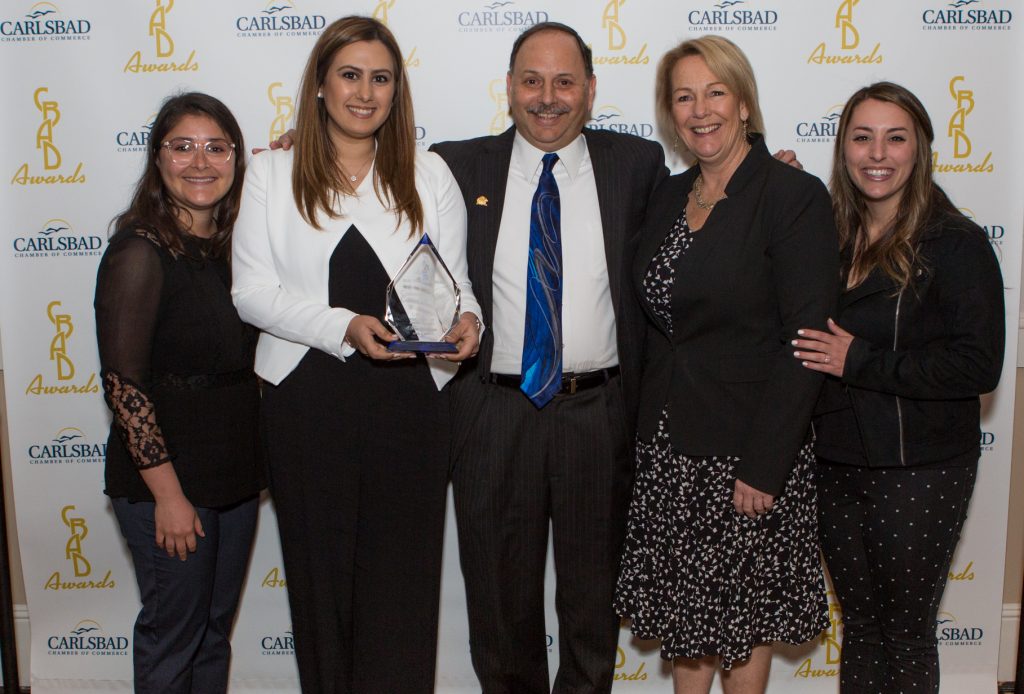 Taking a risk to beat the odds
BY AHMED HAQUE
Chairman of the Board      
CARLSBAD CHAMBER OF COMMERCE
Last month the Chamber hosted the first annual CBAD Awards in front of a packed house at The Westin Carlsbad Resort and Spa. These awards recognize excellence among businesses of all sizes, whether it is the product of a team of hundreds or the spirit of one individual.
One such person of distinction is the winner of The Risk Taker Award, Dawn Lesicko, President of Caring Transitions of Carlsbad and La Jolla. Her business helps older individuals and their families through relocations, whether into a smaller home or assisted living. Lesicko and her team recognize such a process can be overwhelming, both logistically and emotionally. Caring Transitions offers a comprehensive service that includes management of estate sales or online auctions.
A stay-at-home mother for decades, Lesicko reentered the workforce after a divorce and soon learned that she needed more than a paycheck. As Lesicko explains "We're not here in this world to just exist. Money itself isn't fulfilling." In late 2014 she risked her retirement savings to purchase the Carlsbad franchise of Caring Transitions. Lesicko notes that business was slow at first – "I made no money the first three years, yet I was never happier".
In less than five years she has become the largest franchisee of Caring Transitions in the country, regional trainer for the company, and employs a team of twelve.  However, what brings her the greatest pride is the admiration of her children and the gratitude of her clients, some of whom call Lesicko their "angel". Her advice on those exploring careers or businesses to "search your soul, pick something that will bring you joy and a purpose in what you do."
Beat the Odds Award winner CommonGrounds Workplace has had an equally stellar trajectory. In three years, the coworking provider has tripled their footprint in Carlsbad, grown to five locations across three states and will soon open seven more. CommonGrounds recently finalized a $100M series A funding, the largest such investment ever in the industry.
Having previously managed the real estate needs of large companies like Nike and Cigna, CEO Jacob Bates is a keen observer of trends in workspace demand. Not only has technology and tight demand for space in urban cores increased the number of remote workers, but large companies are increasingly looking for flexible workspace in part due to recently revised accounting treatment of long-term leases. "Even though real estate is a significant cost to a company, it pales in comparison to the cost of talent. Culture is more important to some employees than pay. Companies seek flexible workspace that acts as an extension of their own environment and culture." One such company leased CommonGrounds entire facility in Denver because it was such a perfect match. The company still leases shared desks, private desks and offices to more traditional entrepreneur customers but regarding scalability and amenities Bates believes "you can build for a Nike and still rent to Joe Smith, but not the reverse."
Bates plans to take the company international and sees a tremendous market for the "workplace as a service" noting "flexible workspace still comprises less than 1% of office capacity".
We hope that these two CBAD Award winners will inspire you to pursue your passion and shatter your own  growth expectations. It's never too early to imagine yourself as a future CBAD Award finalist or winner.