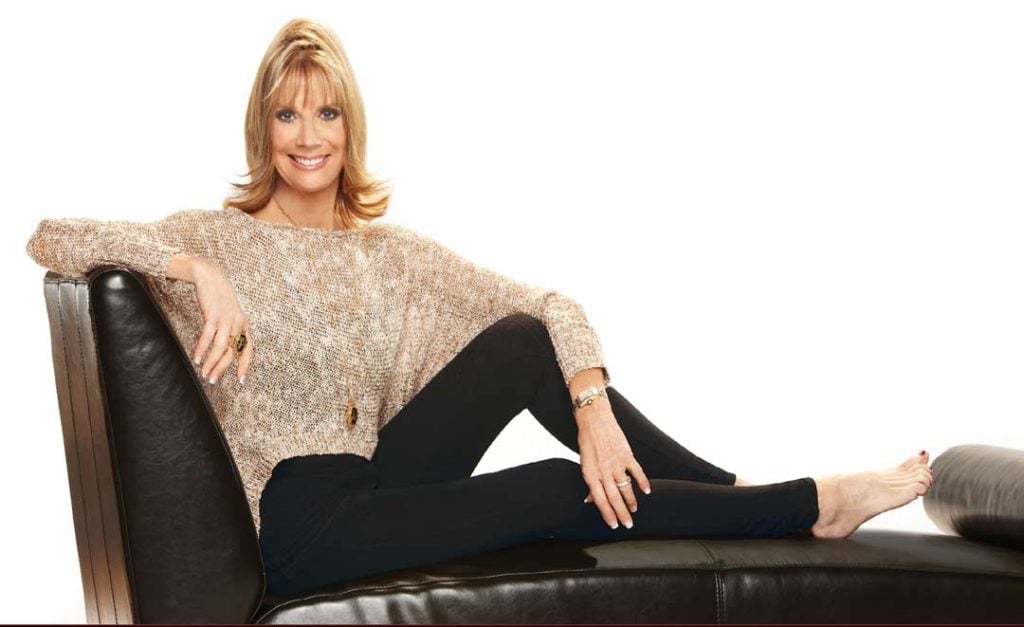 The beat goes on
By Carolina Alban-Stoughton Communications manager Carlsbad Chamber of Commerce
As a Group Exercise Instructor for more than 10 years, I have seen many workout formats come and go. Some of them rise in popularity quickly, only  to fade just as fast due to changing demographics, new research available in fitness and competitive formats in an industry that's constantly evolving.
When I realized Jazzercise, Inc. is celebrating 50 years in 2019, I was determined to find out who was behind such a successful, long-standing and solid enterprise. I needed to know the secret behind the fact that Jazzercise's international business franchise currently boasts over 8,200 franchisees teaching more than 32,000 classes a week in 32 countries and has an annual revenue around $96M.1
I was ecstatic to learn I didn't have to look very far. Founder and CEO of Jazzercise and fitness icon, Judi Sheppard Missett, is a Carlsbad local and has been a member of the Carlsbad Chamber of Commerce for 33 years. "We started in a small office at 800 Grand Avenue in Carlsbad. That building has since been demolished: I should have taken a picture of it! We moved over to Roosevelt Street and that included offices and a studio," says Sheppard Missett, who now operates out of an office located less than a mile away from the Chamber.
"One of the reasons we moved here from Chicago, is that my husband has family here. We like Carlsbad because it's family oriented. That's why we didn't move the headquarters to LA, San Francisco or downtown San Diego. We like being here for that family atmosphere. There's also still a lot of nature here and 
that's rejuvenating. I love downtown Carlsbad – we have so many more restaurants and boutiques popping up. It's just a nice place to live – not to mention the weather is great. You're only a couple of hours from the desert and the mountains. It's like living and working in vacationland."
Breaking barriers beat by beat
I asked Sheppard Missett to take me back to her beginnings in the late 60s, when there was not really a fitness industry as we know today, and  just a few women venturing into business within the field.  Sheppard Missett was teaching a Jazz Dance class in Chicago back then when she noticed her students were not staying in her class. "It bugged me. I wondered what I was doing wrong. I thought the best way to find out was to ask. That was a little bit scary because it is possible you may not like the answer. They told me the class was too difficult and that they didn't want to be a professional dancer. They just wanted to look like one."
With that information, Sheppard Missett knew she had to make changes. "I made it fun and easy to follow, turned them away from the mirror, and gave them lots of positive encouragement." Soon enough those adjustments worked out. "After the second class I did see the potential for bigger classes. The first class I had 15 people, the second class I had 30, and the next I had 60. However, I didn't think of it as a business at that time, just an opportunity for more people to experience dance."
Following her passion and better weather, in 1977 Sheppard Smith opened her first corporate Jazzercise office right here in Carlsbad. It was then that right before her eyes the company's growth exploded. "It never dawned on me that 'wow this is big' until maybe the late 70s, early 80s. I was sitting in my office and (then COO) Margaret Stanton came in and said, 'we have to look at something here and figure out what to do with it. You have about $800,000 in the bank and we have to know where we're going to allot that.' I looked at her and said 'WHAT?? That's almost a million dollars!' When she told me that it was surplus, I thought 'Hey, we're doing pretty well!' And then we just kept going from there."
The evolution
Through all these years, with her positive attitude intact and her adventurous approach to life in full swing, this Carlsbad trailblazer has always been able to adjust to all the challenges of time and relevance. "Every decade there's been something major that we've done where we needed to make a change. But I have to say, it's FUN. A lot of people look at things and think 'It's getting harder,' but I think 'Hey, this is a new adventure.'" Some of those adventures have included getting on VHS in the 80s, starting a rebate program  for top earners in the 90s to invigorate more participation form Jazzercise's franchisees and embracing new technology such as creating their website.
"In the first decade of the new millennium, we instituted new business plans. In this decade we are developing more program ideas, facility options, and new ways to think of instructors, and create different points of entry for people of all backgrounds.
There are always cues telling you what next steps are needed. And then you decide how you want to handle them. And it's fun. It's exciting. I have incredible people around me. I feel like all I have to do is say 'let's do this' and let them run with it. My daughter (Shanna Missett Nelson) is an incredible leader in the company as well. She's very creative. The idea is to keep being proactive and moving forward."
Keeping on moving
I asked Sheppard Missett what her vision is for the company in the next few years, her answer summarized in three words: "To keep going!". With customers who are loyal fans and have been Jazzercising 20, 30, 40 years, Sheppard Missett knows she needs to continue to fulfill their needs, while at the same time attract a new audience. Sheppard Missett also has the commitment to lift up other women who want to start their own franchise or business. "We'll continue to come up with new class programs and unique ways of communication. We're working on video on demand which will reach a different group of people, but also provide a new experience for our current customers. We're also looking at new ways to work with our instructor base. Jazzercise has always been a scalable business. We strive to be there for more women who want to be to be a part of our program either as an instructor or as a business owner."
Endurance
As someone who has dedicated her life to health and wellness, it is only fitting that Sheppard Missett shares some tips on how to live a healthy life. "I think what you're talking about here is sustainability. How do you sustain yourself as a human being? That, in turn helps you sustain your business. There are three important areas – striving for the mind/body/spirit connection will give you clarity, serenity, opportunity and energy.
1. You have to keep your mind questioning and educated.
2. You have to keep your body fit by exercising and eating properly, getting check-ups, and paying attention to your wellbeing. And…
3. You have to feed your spirit – keep joy in your life. Give back. Three ways to do that are through volunteering, mentoring, and philanthropy. When you give back, and put joy in your life, you will feel better, look better, age better, and have a better quality of life."
After 50 years, there's something this successful woman entrepreneur carries with her wherever she goes that energizes her. "The memories I cherish the most are the relationships and the comments I get from people who have been touched by Jazzercise in one way or another. Maybe it's just helped them to feel better. But there's more to our program than just fitness. There's a community. I get letters from people from around the globe who are so grateful for that sense of community, who wake up and look forward to going to their 'happy place'. When people tell me Jazzercise is their 'happy place,' it fuels my motivation to keep making it better and better."
Lifting other women up
At a time when women are feeling even more empowered to start businesses Sheppard Missett is a living example that success can be long lasting. "The first piece of advice I'd give any woman is to do something you're passionate about. Passion enables you to work really hard because you will need a great work ethic as well as patience, perseverance, and courage. Passion helps you listen to your gut. It also helps you to be okay with being different because that means you are unique and special. Secondly – don't be afraid to change. Lastly – nurture and feed your inner self by working on that balance between mind, body and spirit."
Judi Sheppard Missett will be the keynote speaker at the #CBADAwards Luncheon on Thursday, April 4, presenting "Sustainability – Overcoming Challenges and Experiencing Joy". Get your tickets to listen to her live at www.carlsbad.org/cbadawards2019