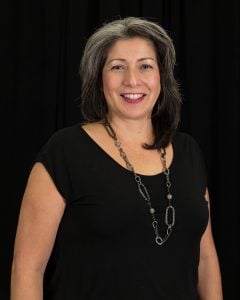 Dr. Patricia L. Prado-Olmos
Vice President of Community Engagement 
California State University San Marcos

Jessica Berger wasn't due to start her new job as Cal State San Marcos' vice president of University Advancement for two more months when she visited campus for commencement last May.
The fact that Berger wasn't officially working for CSUSM yet was irrelevant. Like the majority of CSUSM students, Berger is a first-generation college graduate, so the opportunity to see so many students experiencing the same joy she did was one that she wasn't going to miss.
"I had between goosebumps and tears as I saw the expressions of the graduates, and I know what that feeling is like that you've made it," Berger said. "I've always had this mantra that goals have no limit. And just to see how far those students have come, to hear their stories, and then to see their families and the impact that moment has on their families is really special."
Berger officially joined the CSUSM family on July 12 after previously serving as the assistant vice president for development in the Office of College Advancement at Harvey Mudd College in Claremont. She is looking forward to helping more CSUSM students reach commencement day in her role with University Advancement and as the executive director of the CSUSM Foundation, which supports the university's mission by cultivating and promoting charitable investment in the university and encouraging a culture of philanthropy.
"From Jessica's very first visit to campus, she has embraced and connected with our mission of student success, and she truly bleeds Cougar blue," said Steve Wagner, chair of the Foundation Board and the co-founder and president of Stone Brewing Co. "I have personally been very impressed with the energy and focus she brings to the challenges of her role. I've been thrilled to see her at numerous events in the community, meeting people and starting the important work of building relationships."
An Ohio native, Berger moved to California after earning a master's degree in social work and began working for the MACHAO Orphanage Foundation, which provides assistance to orphans in Kenya. That led to a position with Polytechnic School in Pasadena to help with a $93 million campaign. It was also her introduction to educational fundraising.
"Education has always been the most important thing in my life," Berger said. "My parents didn't have the opportunity to attend college, but I knew that it was my ticket to do anything and the key to open any doors for the future."
CSUSM successfully completed its first comprehensive fundraising campaign at the end of 2018, and Berger and her team are already in the planning stages of the university's next campaign. She is looking forward to helping CSUSM continue progress toward being a national leader in social mobility and student success.
As the university rolls out its new strategic plan, Berger and her team will be building an action plan focused on community partnerships and fundraising priorities that will impact the campus and region for decades.
"I hit the jackpot with a University Advancement team that is talented, committed and collaborative," Berger said. "It's been exciting to dive right in and explore areas that we can thoughtfully build and grow in order to be successful and as we strategize the work that will need to take place for the next campaign.
"Every single person at CSUSM is here for our students, to ensure their success. It has been really inspiring that every community constituent I've met with has, unsolicited, shared that they're here because of our students and our important mission."