Carlsbad Village growing greener by the day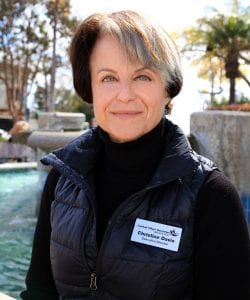 Christine Davis
Executive Director
Carlsbad Village Association







April ranks right up there as one of the most popular months of the year due to the longer daylight hours and the hint of warmer weather as Spring comes into full bloom. It is also a favorite because it celebrates our planet during a 30-day world-wide celebration called Earth Month including a day devoted to protecting the environment and improving sustainability on April 22nd. 
Carlsbad Village is not new to the importance of being environmentally aware. Looking back on the past six years, the Carlsbad Village Association (CVA) has been making efforts towards being "eco-friendly" in a variety of ways. And its efforts continue to gain momentum as it does its part.
Starting in 2016, the State Street Farmers' Market began a reusable bag program to help eliminate single use plastic bags. To date, it has handed out more than 3,000 free, reusable, washable canvas tote bags that staff sees back at the market week after week, year after year. Most recently, thanks to the collaboration of the City of Carlsbad's Sustainable Materials Management Division (SMMD), it was able to hand out an additional 100 reusable bags, designed by the city, that began life as a plastic bottle. 
In 2018 the association's annual "foodie" event, Taste of Carlsbad Village, went green to eliminate tens of thousands of plastic plates, forks, and cups that are common to dining events like these. CVA was awarded a community enhancement grant from the County of San Diego that enabled it to provide compostable plates, napkins, flatware, and even trash liners, most of which were plant-based, to every restaurant and beverage provider on the route for two of its annual events. CVA started using reusable cups during its 2019 event, and in 2021 when the grant had completed, (after taking a Covid break in 2020), it purchased all serve ware items itself to keep the eco-focused practice going strong. 
Through a program created with SMMD and city contractor Re-Earth Consulting, a food waste management plan was also initiated for the past three events with 30% of food waste being composted after each annual event.
To address new state environmental laws, including Senate Bill 1383 which requires organic waste recycling starting July 2022, CVA was pleased to have Alyssa Wagner, Environmental Specialist with the City of Carlsbad, and two recycling coordinators with Republic Services (the city's new waste hauling contractor starting July 2022), speak at its business networking meeting in March. Restaurateurs, who will be particularly impacted by this initiative, were able to ask questions and arrange for an on-site waste analysis to better prepare for the changes coming this summer.
In addition to education, CVA is getting even more hands-on. On March 20th it collaborated with Richness of Giving, run by Andy Davis, owner of Mas Fina Cantina, Visit Carlsbad, and several other Carlsbad Village businesses on what is sure to have been the single biggest downtown cleanup to date. Over 200 volunteers collected 623 pounds of trash! Routine downtown cleanups are planned as CVA continues its commitment to taking care of the environment.
If you would like to make an impact this April, there are a variety of local cleanups, and your presence would be so welcome. Think of what we can do together!
•C3 Club (Carlsbad High School student-run initiative) meets every Sunday at different locations. Connect with them via Instagram @carlsbadcleanups and download their new app to stay involved.
•Richness of Giving meets every 3rd Sunday at Mas Fina Cantina
•April 9th – Carlsbad Bucket Drive Fundraiser for Creek to Bay Clean Up (www.cleansd.org)
•April 16th – CVA Member Hosted Clean Up by Pure Project and Handel's Ice Cream. This clean-up is supported by SDSU Tobacco Product Waste Reduction Project and Tobacco Control Program.
•April 23rd – I Love A Clean San Diego – 20th Anniversary Creek to Bay Clean Up Day (www.cleansd.org)
For information on any of these programs, please email [email protected].