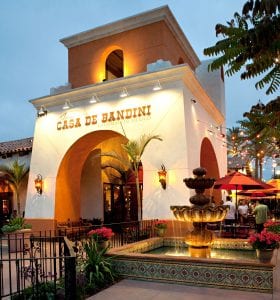 Looking to kick off summer in a safe, sunny and cheerful environment? Diane Powers' Casa de Bandini in The Forum Carlsbad is your next go-to staycation destination. Casa de Bandini brings old-world Mexico to life with authentic cuisine, giant margaritas and a vibrant, glowing atmosphere.
Casa de Bandini has been charming North County residents since relocating from Old Town in 2009, offering a delicious selection of award-winning Mexican cuisine, giant handcrafted margaritas and handmade tortillas served hot-off-the-grill each day. As soon as guests walk in, they feel the excitement of Mexico with authentic décor, fine Mexican folk art, and colorful hand-painted murals.
The menu features authentic dishes made with the freshest ingredients and original regional recipes, including favorites such as the Tequila Lime Shrimp, shrimp sauteed with tequila, lime and butter; seasoned garlic, crushed chili and cilantro; Carnitas a la Michoacán, slow roasted succulent morsels of pork served with soft hot tortillas, guacamole, salsa and frijoles de la olla; and the Fajitas Supremas, a sizzling platter of shrimp, chicken and beef marinated and combined with sautéed with bell peppers, onions, tomatoes and mushrooms, and served with tortillas, guacamole, Mexican rice and frijoles. Featuring more than a dozen homemade sauces, salsas and dressings, plus handmade tortillas served all day long, Casa de Bandini boasts an extensive menu of delicious flavors amidst a vibrant dining atmosphere reminiscent of Old Mexico.
In addition to its mouth-watering cuisine, Casa de Bandini offers delicious margaritas in three generous sizes, from 17- to 32-ounce glasses, where various flavor options and a selection of more than 95 of the most popular tequilas join forces to create some of the best and most flavorful margaritas you'll find anywhere in San Diego.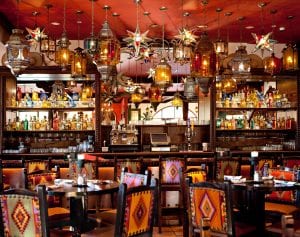 In keeping with the latest mandates, Casa de Bandini has implemented all required health and safety measures, including proper physical distancing throughout the restaurant and seating areas, ongoing cleaning and disinfecting of high-contact areas, required face coverings for guests and staff. The restaurant has also expanded its outdoor heated patios – already some of the most beautiful in all North County.
For those wishing to dine from the comfort of their homes, Casa de Bandini's full menu is available for takeout, including its wide selection of handcrafted margaritas. Or try one of the restaurant's "Fiesta Express Meals," which are large enough to feed the whole family – with leftovers! Delivery is also available through DoorDash, Postmates and The Office Express.
With its splashing fountains and beautiful heated outdoor patios, authentic Mexican cuisine and legendary margaritas, let Casa de Bandini turn everyday into a fiesta!
For more information visit www.casadebandini.com