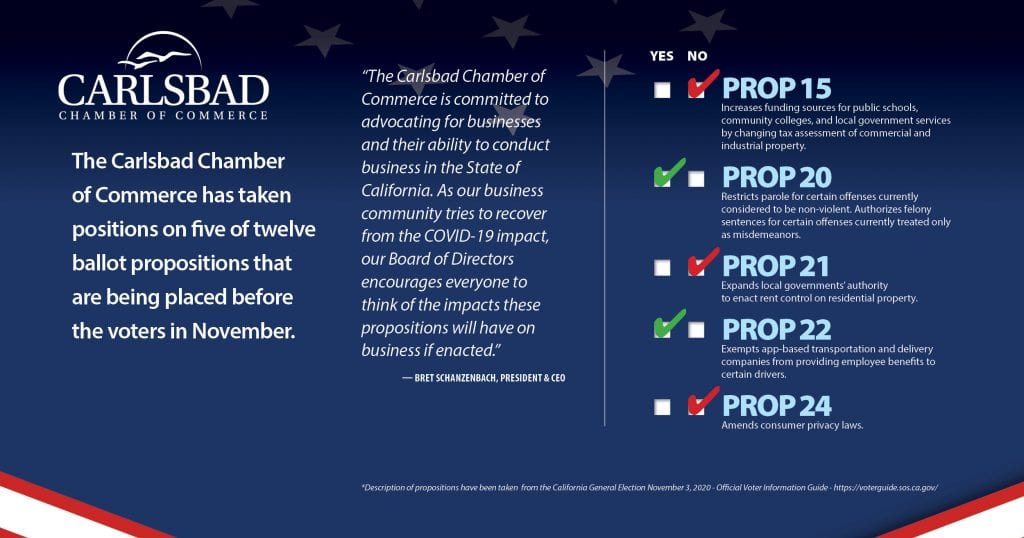 Carlsbad Chamber of Commerce Positions for the 2020 Election
The Board of Directors of the Carlsbad Chamber of Commerce takes it role as an advocate for business very seriously.  For the November, 2020 election, the Board asks that you consider how each Proposition will affect local businesses that have been severely impacted by the coronavirus.  With that in mind, the Board has taken the following positions:
Prop 15 – Oppose – Increases property taxes on commercial properties.
This split roll tax initiative that will remove Prop 13 property tax protections for commercial properties would result in a major tax increase for businesses.  Current estimates are that this will increase taxes on businesses between $6.5B and $11.5B annually.  As businesses are still reeling from COVID-19 and its affects, this would be a death blow for many businesses.
Prop 20 – Support – Authorizes felony sentences for certain offenses currently treated only as misdemeanors – including serial theft.
California voters have voted twice in recent years to reduce the punishment for crimes considered less serious than violent felonies. In 2014, Prop 47 reduced the penalties for some theft and drug crimes. In 2016, Prop 57 offered parole to for crimes that don't fall on the state's list of violent crimes. This ballot measure would place new limits on some of the sentence reductions included in Prop 47 and Prop 57. It would allow some theft-related crimes to be charged as felonies and it would create two new crimes: serial theft and organized retail theft. Both crimes could result in jail time.  This is vitally important to fix some of the unintended consequences of Prop 47 & 57.  Currently we allow serial theft up to $950 with no consequences.
Prop 21 – Oppose – Allows local rent control.
Growing concerns over California's lack of affordable housing have made rent control a hot topic in the state and at the state Capitol. Last year, Gov. Gavin Newsom signed a law restricting annual rent increases to no more than 5% plus inflation, one of the strictest statewide caps in the country. That law was written after California voters rejected a statewide rent control measure (Prop 10) in 2018 This year the same author of Prop 10 is trying again.  The ballot measure would allow local governments to impose limits on rent increases when a new renter moved in.  This will have a negative impact in the marketplace and will push more landlords to leave the market.
Prop 22 – Support – Allows app-based drivers to be "independent contractors" vs. "employees".
The bitter fight over designating a worker as an employee or an independent contractor resulted in AB 5, which imposes new criteria to determine the correct status for up to 1 million Californians. In its simplest form, Proposition 22 would clearly designate UBER and Lyft drivers to be independent contractors. Both UBER and Lyft have threatened to cease their business operations in California if this doesn't pass.  The Chamber supports the individual drivers' rights to act as independent contractors, and UBER and Lyft's rights to create innovative services.
Prop 24 – Oppose – Changes consumer privacy laws, increases liability on local businesses.
California's sweeping new consumer privacy law went into effect in January and strict state enforcement began on July 1. It gives individuals much more control over data collected by a variety of businesses.  The measure on November's ballot goes further. It creates a new definition in state law of data "sharing" in an attempt to make more businesses subject to privacy rules. Consumers would also have new rights to limit the sharing of their personal information and to correct inaccurate information. Penalties for companies that break the law would go up under Prop 24, with even higher fines for information related to children. And a new consumer protection agency would be established in state government.  The dust is not yet settled on the current, brand new law affecting businesses, and this measure would add more regulations and more penalties.  This burden upon business is ill timed and onerous.
"The Carlsbad Chamber of Commerce is committed to advocating for businesses and their ability to conduct business in the State of California," says Carlsbad Chamber President & CEO Bret Schanzenbach.  "As our business community tries to recover from the COVID-19 impact, our Board of Directors encourages everyone to think of the impacts these propositions will have on business if enacted."