Champions of sustainability
BY CAROLINA ALBAN-STOUGHTON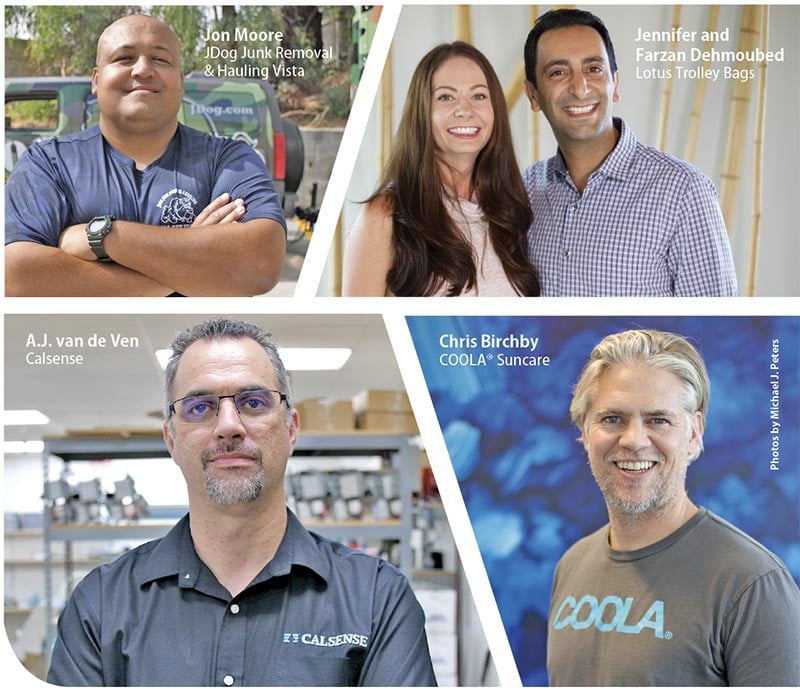 Communications Manager CARLSBAD CHAMBER OF COMMERCE
These are the stories of four small businesses on a mission driven by their love for the Earth.All of them are award winners from the Carlsbad Chamber of Commerce 2018 Small Business Awards.
The race against plastic
Their love for the environment is what motivated Farzan and Jennifer Dehmoubed to come up with a solution to decrease the number of plastic bags the average family uses. In early 2017, after California banned single-use plastic bags, they founded Lotus Trolley Bags. The Lotus Trolley Bags are a set of four reusable bags that attach to each other, designed to open up inside the shopping cart. For this product, the Dehmoubeds were recognized by the Carlsbad Chamber of Commerce with the 2018 Small Business Innovation Award. "We are extremely honored to be receiving this award and are grateful for the recognition for our work because it's a cause that we feel very passionate about.  We hope our Lotus Trolley Bags can bring awareness to sustainable solutions and alternatives to plastic. It was our first time inventing something and to see our name associated with innovation in our home town of Carlsbad was so exciting." Farzan, a surfer who also enjoys playing beach volleyball, and  Jennifer, a yogi, have seen first hand thedamage plastic has done to our beaches, ocean and marine life. "Being fortunate enough to live in Carlsbad, the sweet spot of the universe, we appreciate the beauty
of this planet on a daily basis.
That being said, our planet is facing a major problem with plastic pollution. It has spread everywhere across the globe," said Farzan adding, "we want to help give a stronger voice to this epidemic and offer people better and smarter solutions."
And as if the Trolley Bags weren't enough for them, the Dehmoubeds already have other products they have launched to continue their mission for a plastic free planet. "Since we won the award we
have expanded our line to create a wide club cart Lotus Trolley Bags," said Farzan, who is currently targeting membership-based warehouse stores. "We also produced a set of washable, reusable produce bags as a solution to the millions of wasteful plastic bags we use in the produce section.
The response on these matching produce bags has been amazing," adding that their innovative bags can now be found in several local grocery stores. "We hope to spread the concept nationally and internationally. To do so, we have recently started looking at bringing on outside investors to join the team.
It's been a wonderful journey and we are grateful."
Protection beyond your skin
In 2002 both of Chris Birchby's parents were diagnosed with melanoma. Such a personal health scare prompted him to change his habits regarding sun exposure. However, he was disappointed when all the products he found were full of chemicals."I started looking at my own bad sun habits and re-realized the importance of frequent sunscreen use. I searched but was unable to find any wearable, healthy sunscreens – and that quest became an idea that evolved into COOLA!"
COOLA Suncare is now a global company and growing fast. It embodies everything Carlsbad – organic wellness, the outdoor lifestyle, a healthy environment and love for the community. When COOLA was named Best Small Business in Carlsbad by the Carlsbad Chamber of Commerce in October 2018, everything came back full circle. "It was such an honor for all of us at COOLA to win Carlsbad Chamber of Commerce, Best Small Business Award! We love living and working in the community and we're blessed to be able to do so in a conscientious and connected manner. North County San Diego is simply awesome." Birchby, also an avid surfer, has a passion for the environment. The community he lives in and loves has pushed COOLA to develop products that are considered Reef-Save.
"There is a tremendous amount of sunscreen that transfers from people to nature, all around the world. Several recent studies have shown some traditional sunscreen chemicals can be particularly harmful to coral reefs. For us, it's a no-brainer to stay away from ingredients that damage the places we live and play. In fact, just two months ago Outdoor Magazine named our brand Bare Republic the Best Overall Reef Safe Sunscreen!"
Since winning the award last year, COOLA has continued to explore other ways to reach out to more people with its products.
"It's been a whirlwind the last several months as we've been gearing up for sun season. We have over a dozen new product launches across both brands, COOLA and Bare Republic, and we'll be releasing information about them soon. I can give you one teaser – Bare Republic is launching a line of mineral-based SPF FunscreenTM, including products such as Golden DazeTM and Diamond Dust – healthy sunscreens with golden or holographic shimmers!," said Birchby his excitement and drive palpable.
An uphill battle worth fighting
Sometimes love for the environment also means creating services that promote and help make our cities more sustainable. It is no secret that California has a water problem and is constantly looking for ways to make sure we don't run out of it. Enter Calsense, one of the 2018 Small Business Sustainability Award winners. Calsense was founded in the 1980s when California was going through a big drought. Calsense developed custom irrigation solutions that are meant to conserve water, while saving in labor and also saving money. "The first thing that went through my mind when it was announced Calsense received the 2018 Small Business Sustainability Award was pride. Pride that the hard work our team has put forth over the years to conserve the world's most precious resource is being recognized. Pride for the difference we have made and continue to make within the City of Carlsbad, a community we have been part of since our establishment in 1986," said President of Calsense, A.J. van de Ven. The company not only provides a service that's in essence sustainable, but also implements green business practices as a core value.
"Unlike many companies, at Calsense, the term sustainability isn't a marketing buzzword. Instead, it's a pervasive element within everything we do. Every decision we make factors in our environment, employees, customers, vendors, and community. Our commitment to environmental sustainability extends beyond saving water, as we make extra efforts in reducing our carbon footprint and improving the energy efficiency of our corporate headquarters. Some of our efforts include: reusing/recycling shipping materials, reducing our carbon footprint through energy efficiency and tracking/reducing engine idle time of our company vehicles, limiting our environmental test chamber use to 2-3 hours per day, and more."
For van de Ven, conserving water is also a personal mission. "I have two young children who, like the rest of the world's children, deserve to have access to the same fresh drinking water humans have enjoyed for millennia. They deserve to grow up in a world without fear of the effects of human-driven climate change destroying their homes or lives. Seeing the strides we have made at Calsense and how it has influenced others gives me hope that we can change. The upcoming generation is our future and it's critical that we provide them with a world to grow up in."
Meanwhile, Calsense has enjoyed a boost since they were recognized by the Chamber in October of last year. "Just this month we secured a major project with a large hardware and software company in the Pacific Northwest. The organization is heavily focused on sustainability and they were looking for a landscape irrigation manufacturer who held their same values and beliefs. This project got the company off to an amazing start to 2019 and sets the stage for continued growth throughout the year. Internally, our focus on sustainability has attracted the attention of the younger generation who are focused upon reversing course on the destructive path mankind has taken on this planet. In just the past six-weeks, our team has grown 10% by hiring young minds in brand new positions including two in engineering, one in marketing, and one in inside sales. These new hires bring a wealth of knowledge and experience in sustainable practices, not just in business, but personal life as well. Their influence is already being felt companywide as our seasoned workforce interacts with them and absorbs their youthful enthusiasm and desire to grow and make a difference."
Hauling with a purpose
President of JDog Vista, Jon Moore, and his brother Chuck Moore, grew up in San Diego County, very aware of the beautiful beaches that surrounded them. Their junk removal and hauling business, not only helps others get rid of things they no longer use or care for, but makes sure that what gets disposed doesn't end up in a landfill, the water, or our beaches.
By sorting everything they pick up, they make sure that most things get recycled, reused, or repurposed. Jdog Junk Removing and Hauling in Vista, together with Calsense, also won the 2018 Small Business Sustainability Award for making sure things don't end up as toxic waste in the place he grew up loving. "Both my brother and I were astonished to have won the award.  We honestly put our name in the hat thinking we were just bumping up the numbers!  Sometimes you don't think you're at a point of recognition, even though others see you as so."
As veterans, Jon and Chuck not only provide employment for other veterans like them, but also help veterans by donating the items they collects to organizations that support veterans.  "Working with companies such as Veterans Green Projects is amazing. We take all of our electronic waste to this company which helps with keeping items out of the landfill. They also employ veterans just like we do. Helping veterans have employment make my brother and I feel like we're doing our part in the community. We're both veterans ourselves and know what it's like to leave the service and have a hard time coping with so called new ways of doing things." While there's still a lot of work to do, Jon has seen some change in the way people relate to the environment. "I believe people are more conscious about recycling these days due to the publicity given to it.  We are slowly helping slow down the effects of pollution as our society continues to recycle, reuse or repurpose items. Honestly since we won the sustainability award we have picked up business and I don't think it's a coincidence.  People call and ask us what we do with the items and I hear the joy in their voices when we tell them our process."
Thinking ahead is important for Jon. "Our plans for the future are already in motion.  We are moving locations and now will have a 4000 sqft warehouse, which will give us more room to sort through and recycle, reuse, or repurpose items more efficiently and effectively.  We have expanded again since we won the award and now cover the entire North County area from Solana Beach to Camp Pendleton, Rancho Bernardo to Fallbrook and everything in between. We are so grateful for our fast growth and the people we come in contact with who share our same vision of helping the planet, veterans, and local communities."
You can learn more about these great companies in person, as they will be part of the 2019 Green Business Expo at The Flower Fields, on April 17 from 3 – 7pm.