Catherine Magaña
Chairman of the Board
Carlsbad Chamber of Commerce

Feeling stressed out at work? Well, you are not alone. According to research done at the Centers for   Disease Control and Prevention National Institute of Occupational Safety and Health, 29 to 40% of Americans report being, "extremely stressed at work."
Think about all the stressors with which you might come into contact that take a toll on your mental health during the workday. For instance, there's everyone's favorite, multitasking. How many times a day are you attempting to get several things done at the same time and just feeling overwhelmed?
For many workers, this multitasking brings about questions of their own organizational skills. Feel like you are buried with work that you can never seem to get done? Again, you are not alone.
Then there's the always fun "interpersonal conflict" with your co-workers or your boss or your suppliers or your customers. Nothing says calm like dealing with people who really get on your nerves in the workplace. It's no wonder that by the end of the day, people are so stressed out that many just want to get in their cars, turn on the music and turn off the world.
Fear not because at 4 p.m. Thursday Feb. 25, The Ready Carlsbad Business Alliance will present, "Mental Hacks To Rock 2021..Strategies for restoring Psychological Resilience in the workplace." If you are a leader in your organization, "You have now become a health guardian in improving people's health and well-being," says Lela Panagides of the Leap Into Leadership organization. "In fact, we look to our leaders to help us navigate successfully through crisis by taking cues from how they respond to cumulative stress and on-going challenges."
But leaders are human too. "These leaders have spent years, if not decades, learning how to develop their own personal resilience," says Mrs. Panagides. This will be the core of the presentation as Lela Panagides and Dr. Sara Gilman will identify challenges that impact resiliency and disrupt productivity. Participants will be introduced to successful, science-based techniques to recover from chronic stress and build personal resilience for long-term health.
"Psychological resilience is not a given muscle", says Dr. Gillman of Coherence Associates, Inc. "Stressed out, most resilient people are being faced with sudden changes to their work and home environment," says Dr. Gillman. Learn techniques that with some practice will "actually re-wire your brain," Mrs. Panagides said. "You will start building capacity and increase your ability to perform…while remaining focused, calm and healthy."
So, join us on February 25 for a reboot and a plan for restoring your mental health. You have nothing to lose except your stress!!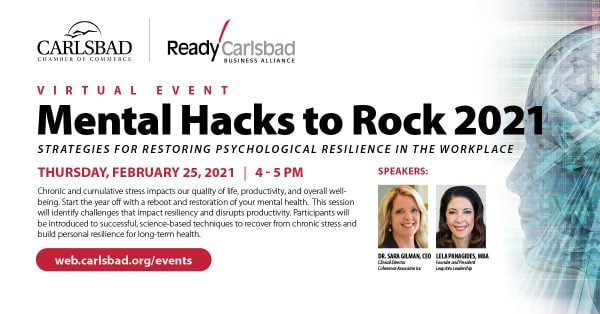 Lela Panagides, MBA, is Founder and President of Leap Into Leadership, a leadership development company that helps leaders and organizations globally manage change, disruption and transformation to achieve successful outcomes.
Dr. Sara Gilman, CEO, Clinical Director, Coherence Associates Inc. with the mission of providing the best possible mental health treatment for clients within a collaborative professional team environment. As Clinical Director she provides guidance and 30 years of experience to her team of clinical associates.