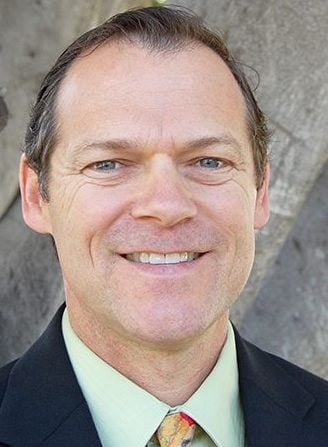 BY BRET SCHANZENBACH
President and CEO
CARLSBAD CHAMBER OF COMMERCE
The rainfall we have received this January has gotten us off to a much better start than how we started 2018. Our totals since the beginning of October (which is when our rain season officially begins) are up significantly over our average for this point in the year. That is very good news for our region, as our perpetual drought problems are difficult on our residents, businesses, water agencies and developments. But water is welcome for more reasons that just that.
Water is a universal symbol for life, health and wellness.  Experiencing the rain is like our version of "spring". I know we don't have a true "spring" – at least not when compared to our friends and family who live in the Midwest or the East Coast. But to me, the rain, and that "spring-like" experience, still represents new life, rebirth, optimism and vitality.
A New Horizon
As I start on this journey as the new President and CEO of the Carlsbad Chamber of Commerce, I am embracing a new springtime here locally as well. Ted Owen did an amazing job as the President and CEO here in Carlsbad for the past 15 years. He was a great builder, collaborator and leader. I have big shoes to fill (this is where Ted would remind us all that his shoes are "only" size 11).
My goal is to get to know all the civic and community leaders as well as all the Chamber committees and members as soon as possible, so I am currently "making the rounds". I want to thank the Board of Directors, the Chamber staff, and everyone I have met so far who have extended such a warm welcome to me and my family. Ultimately the Chamber is here to serve our membership and to make the community of Carlsbad a destination for business, residents and tourists. If you have input or ideas for me, please let me know. As I work on getting up-to-speed on all things Carlsbad, I feel like I am taking sips of water from a fire hydrant, but I didn't expect much different. Your ideas and input are always welcome and can be added to my learning curve.
Spring is in the air and I am looking forward to getting to know all of you in this new season.